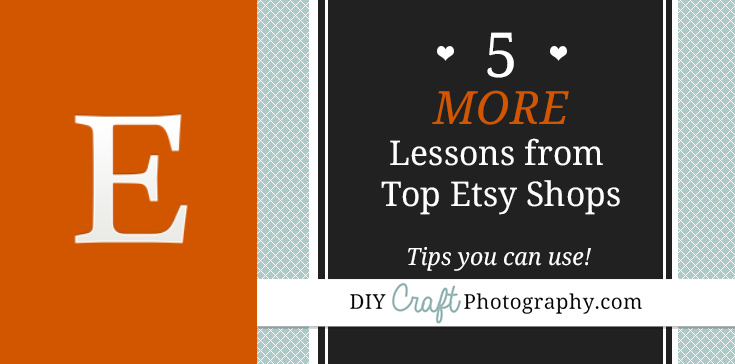 Every so often, I take a peek at CraftCount.com, visit the top selling shops, and try to divine their secrets. As of this writing, the top 5 selling Etsy shops (overall) are:
So what's new with these shops? All five of them were in the top 5 last time I looked, but, thankfully, there's always more to learn about selling stuff on Etsy. (And no, I'm not going to waste time on tips  like "sell beads" or "open your shop eight years ago" 😉 )
Here we go!
1. Sweeten the Deal: Discounts and Coupon Codes
Check out the banner and header text of the top 5 shops: all five are offering some sort of discount and/or promo code to enter at checkout. When some of the first text a shop visitor sees is "COUPON", "DISCOUNT", or "SALE", I'd bet there's a pretty good chance this helps massage sales in the right direction.
Exhibit A: ShareLiving's epic 20% sale banner. I don't know if they'll make good on the "today only" promise, but this is pretty hard to miss.
You don't have to get quite that over the top to get the point across, though. Check out YadanaBeads's neat and tidy list of coupon codes:
YummyTreasures goes a slightly different route. They don't feature a coupon code in their shop message, but they do use the space to talk about their flat rate shipping and mail upgrades.
Lesson: Use the shop intro to welcome buyers and then immediately sweeten the deal with some coupon codes or discounts. Offer promotional codes and free or flat-rate shipping. I used to fill this section of my own shop with cutesy on-brand text, but after changing it to say *FREE SHIPPING* I got two sales in a weekend. Probably not a coincidence…? (After all, the "free shipping" business model has done wonders for Amazon!)
2. Organize that shop!
All five of these top selling Etsy shops have organized their shop into nearly a dozen clearly labeled sections. Even better, in some of the top 5 shops there is a section for Clearance or BIG SALE. Some customers just *love* a deal! (Says the lifelong clearance rack surfer!) For a real life example, check out YadanaBeads's section called 2 dollars or Less.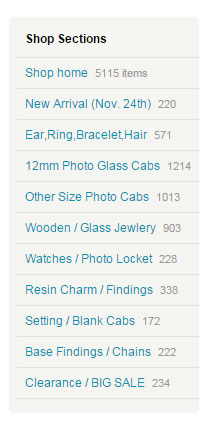 Sections vary by shop, but there are a few constants across all five:
10 or more sections
Lots and lots of items per section (okay, 1000+ might be more than you really need…)
SALE section
 Lesson: Organize your shop into sections! Choose clear category names and don't be afraid to use CAPS for important categories like NEW ITEMS or SALE.
3. Have a lot of variety on offer
Let's say you sell socks. You sell men's socks, size 10-12, in black.
You might eventually come to dominate the men's socks market, but if you're just getting started as a sock artist you would probably be more discoverable if you also sold women's socks, children's socks, socks in all the colors of the rainbow, or socks for people with big wide feet (tell me if you do!), or socks with funny pictures on them, or white socks for running, or clever socks that make it look like fish are eating your feet, or whatever you can think of!
And then once you found out that colorful children's socks are actually your best selling products, you could focus your business on that specialty.
(I can't talk about fun socks without plugging Sock it to Me, a small craft biz in Portland, Oregon to which I owe about 50% of my sock drawer's contents!)
These top 5 Etsy shops might all look like bead shops at a glance, but none of them specialize in any one type of beads. Heck, most don't even limit themselves to beads: they also sell chains, spacers, charms, hoops, buttons, findings, cabochons (what the heck is a cabochon anyway?) and more!
Lesson: Don't sell just one thing. I made this mistake in my own shop when I started out, and it wasn't until I explored a few more designs that I found a design that makes up most of my shop's business.
4. Sell useful stuff
It's probably not a surprise that the top selling Etsy shops are all hawking supplies and other usable materials. After all, Etsy is a crafting community catering to crafters and stuff that helps crafters, well, craft, is probably going to sell pretty well.
However, I think the world needs artists, not just suppliers to artisans. The takeaway here shouldn't be to become an Internet version of Michael's or JoAnn's, it should be to sell something that satisfies a need someone has. What need are these shops filling? Probably the need for a specific kind of bead, the need to avoid driving to a bead shop, the need to order a specific type or quantity, and so on.
Lesson: Fill a need, even if you're selling a finished product. My best-selling product is a plush betta fish that the buyer can customize to their liking. Most of my orders come from people who have just lost a beloved pet betta and want to commemorate the fish's life with a lookalike.
If you're selling clothing and accessories, try to fill a niche that your local department store isn't filling. If you're selling toys, sell toys that are customized or made with responsibly sourced materials or whatever applies to your product.
5. Get those 5-star reviews
Every shop in the top 5 has a 5-star average. A 5-star average helps encourage new buyers to make a purchase, and they also represent a transaction that is likely to result in repeated transactions in the future.

Alas, you can't exactly get 5-star reviews until you're getting sales, but this does highlight the importance of earning those 5-star reviews and encouraging buyers to leave 5-star feedback when your shop is starting out. Do whatever you can (within reason) to earn positive reviews. The most important things are shipping quickly, delivering faster than promised, responding to buyer inquiries, and using a sturdy mailer.
Interestingly, the sales to reviews ratio (sales : reviews) doesn't vary much by shop.
The outliers here are BohemianFindings, which has to make 4.29 sales on average to win a customer review, and YadanaBeads, which must have a pretty loyal following leaving feedback for every 1.84 sales. The other three shops make about 2 and a half transactions per feedback left. Getting buyers to leave feedback is a topic for another post, but it's essential that those who do leave feedback leave very positive feedback.
Lesson: Expect to make at least 3 sales for every one customer review/rating. Make sure it's a good one by shipping quickly, offer freebies (like free shipping and combined shipping), and encouraging buyers to leave 5-star feedback with a pack-in or other reminder system.
That's all, folks!
There you have it – 5 more lessons from the top 5 selling Etsy shops! If you liked this article, check out my previous articles dissecting top Etsy shops and general Etsy know-how: