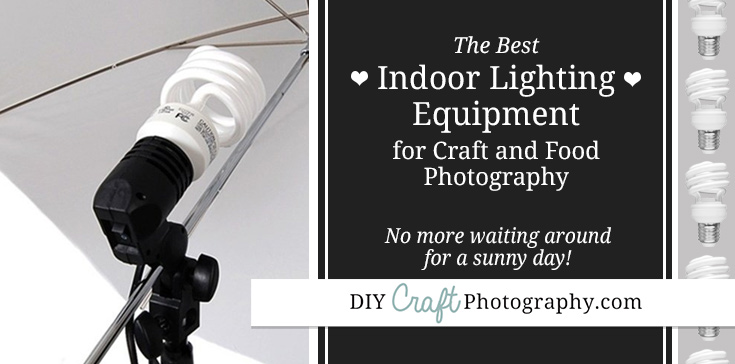 The most challenging aspect of product photography is getting the lighting right.
Lighting affects everything: color, sharpness, shadows, and the overall quality of the image. The outdoors can be fickle and difficult to rely on – clouds, rain, and, oh yeah – that thing called winter.
The best way to control lighting is to create it yourself.
With a good indoor lighting setup, you can photograph whenever you need to – no more waiting for weekends or "a good lighting day" – and deliver consistent results every time. In this special equipment roundup, we're going to recommend the very best indoor lighting equipment for craft photographers and food bloggers!
Best lighting for small objects
Lowel EGO Digital Imaging, Tabletop Fluorescent Light Unit
Perfect for: food photography, handmade jewelry, small handmade crafts like toys and dolls
We love this little lamp by EGO. It's easy to set up (just plug it in) and compact enough to sit on a tray or small table along with your product or food. It's lightweight (less than 3 lbs) and small enough to just tuck away into a closet or drawer. Each Lowel EGO light comes with two 27-Watt custom "daylight" fluorescent lamps behind a white translucent diffusing shield for accurate colors and soft shadows. The lightbulbs also come with a manufacturer's estimated lifespan of 5,000 to 10,000 hours. That's a lot of food photos!
At just over $100 it's not cheap, but it's the closest thing to natural daylight we've seen. Food bloggers Pinch of Yum and Steamy Kitchen both use and recommend this lamp for fantastic food photos on dark winter nights.
Best indoor lighting kit
CowboyStudio Photography Lighting Kit with Umbrellas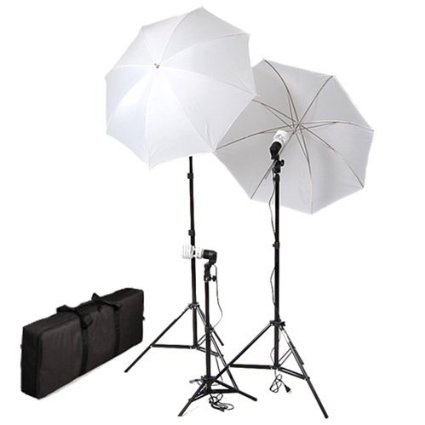 Perfect for: photographing babies, portraits, clothing on models or mannequins, jewelry on live models, medium and larger sized crafts on tables and chairs
Transform a corner of your room into a well-lit photo studio with this kit. Sets up in minutes and includes high quality daylight CFL bulbs for consistent color. Aluminum stands are sturdy. This $70 kit looks and acts like a professional $1,000 kit.
This kit is pretty much everything you need in one convenient package, especially if your crafts are too big for a little light tent or worn by human models.
Set includes:
3 daylight CFL bulbs
2 white 33″ umbrellas and 7 ft stands
3 45 Watt 5500k Daylight bulbs
1 mini light stand
3 swivel sockets (point your lights in any direction)
Padded carrying case
Best reflector kit
Neewer 110CM 43″ 5-in-1 Collapsible Multi-Disc Light Reflector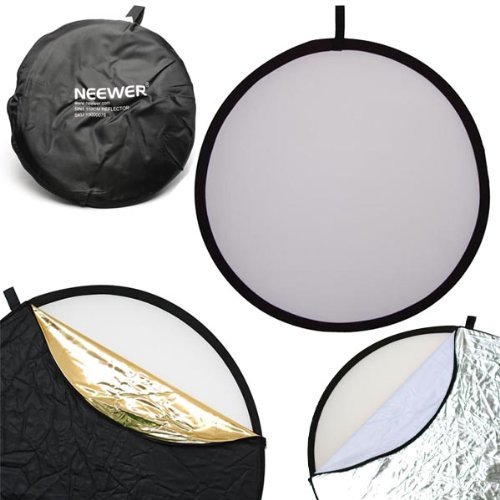 Perfect for: softening shadows on humans and small and medium size objects
Light reflectors are awesome. Hold the disc up near your subject to bounce light back into shadowed areas. (See the magic of bounce lighting in action.)
This "all in one" disc is about the size of a medium pizza. It contains 5 colors: white, silver, gold, black, and translucent. Just unzip to get to the color you want to use, and zip it back up for storage.
Silver is neutral but more reflective than white, so it's best used in lower light situations (such as shooting indoors).
White, like silver, is also neutral but less reflective. Works best in bright lighting to soften harsh shadows. Since it's weaker than silver, it'll have to be held closer to your subject.
Gold reflectors are very warm, use a gold disc to give human subjects a healthy glow or when shooting outdoors to counteract blue tinted daylight shadows.
Black reflectors are the opposite of the previous three: black makes shadows darker by reducing the ambient bounce lighting hitting your subject.
Transluscent isn't a reflector; it's actually a diffuser. Place it between your light source and your subject to soften harsh lighting.
Some reflector kits cost well over $100. That's crazy! This high quality kit can be found for less than $20.
Best tabletop photo studio and lighting kit
LimoStudio Photography Photo Studio Lighting Kit Set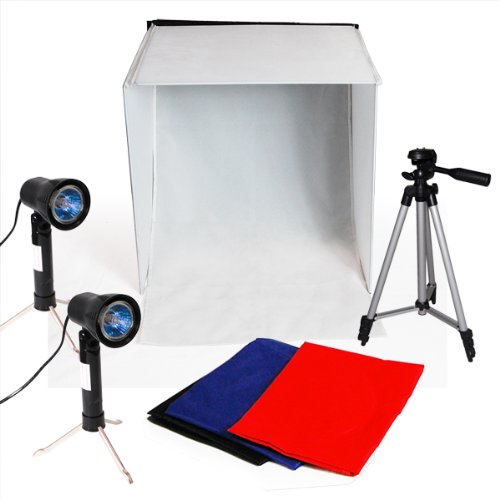 Perfect for: small crafts like jewelry and amigurumi, white background product photography
A photo studio is great for when you want to achieve a smooth, white background behind your product. Aim the spotlights at the side of the box to light it up inside and take bright, beautiful photos. There's a tiny tripod included but if you're shooting with your phone you may not find it very useful. We didn't get much use out of the blue and red backgrounds, but the white one is a workhorse that any crafter selling online should find useful.
See our Photo Studio Kit Comparison Guide for a whole slew of options.
This tabletop photo kit includes:
Light bulbs are studio quality 5000K, 120V 50W GU10 lamps for consistent color temperature (not too orange or blue)
Eliminate unexpected shadows by controlling the light
16″ x 16″ box fits small and medium size objects
Mini tripod with bubble level: so all your photos are shot from exactly the same height
Carrying case! Pack it all away when you're done.
Go forth and photograph your handmade crafts! Do you have any specialized lighting equipment? Show it off – share a link to your photos or shop in the comments!
DIYCraftPhotography recommends
CowboyStudio Photography & Video Portrait Umbrella Continuous Triple Lighting Kit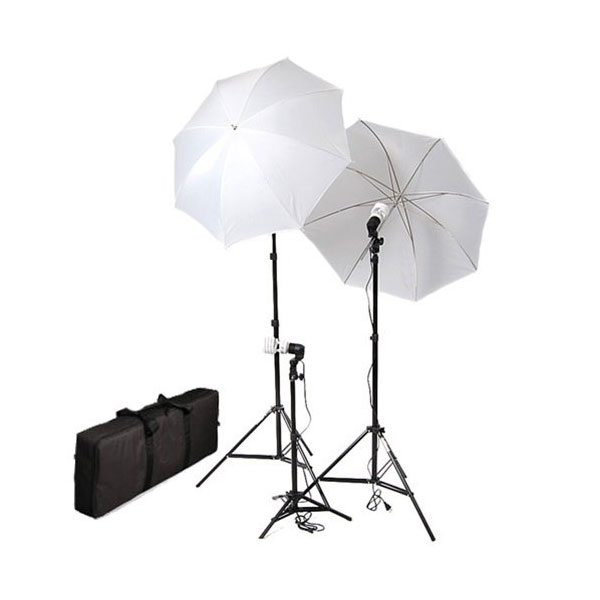 Sturdy, versatile, and inexpensive
No more waiting for the sun to come out! Light up your crafts with this inexpensive lighting kit that includes everything you need to get started shooting indoors.