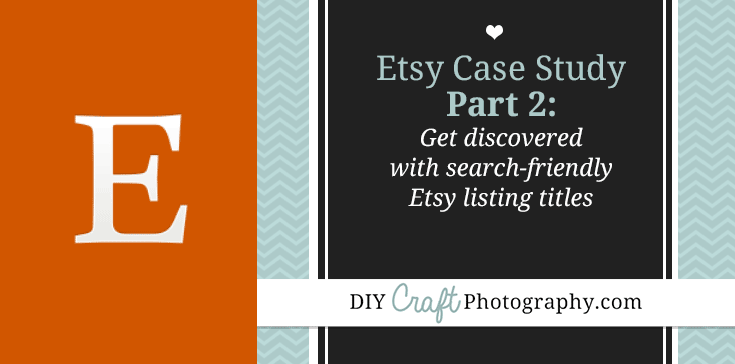 Welcome to part 2 of DIYCraftPhotography's ongoing Etsy shop case study! We're building an Etsy shop and sharing all the details right here!
Today we're going to look at writing search friendly Etsy listing titles so your products can grab traffic from Google and Etsy searchers. We'll look at successful Etsy shops, deconstruct the way they write listing titles, and break it down into a formula for your own products. This technique is great, especially for new shops. It gets your items showing up in search and in front of buyers – exactly what you need to start making sales.
DIYCraftPhotography's Etsy Case Study
If you caught our first post in this series, Part 1: Naming & Opening Your Etsy Shop, then you're probably thinking about listing your very first Etsy item!
This is where things get interesting.
The vast majority of Etsy shops never make it past the initial "hump" of getting beyond a handful of sales. The good news: there is a 99% probability that your slow sales are not because there's something wrong with your product. There's someone for everything. (Seriously.) The challenge is in connecting with that someone (or someones) and marketing to them. That's the bad news. Reaching customers is tough.
Behind every successful shop is a long story of hard work and perseverance. Sure, some shops get lucky – and sometimes lightning strikes in the middle of a sunny day. That's okay, we're going to build ourselves a lightning rod!
Today in our Etsy Case Study we're going to talk about writing search-friendly Etsy listing titles.
Meet the Etsy Case Study Shop
Before we go any further, I'd like to show you the shop I used for this case study (yes, it's a real shop!).  I used my own Etsy shop, a shop I started in 2009 to sell plushies. It has 19 sales (over the course of 5 years) and virtually no traffic (people visiting). No sales yet this year, and maybe 2 last year. This shop is basically dead. (I've been a bad shop mom. 🙁 )
But that just meant it was starting with the same problems that most shop owners have – no traffic! No sales!
Note: It's not a "secret shop" or anything like that, and all the traffic studies featured below were conducted before I exposed the shop on DIYCraftPhotography (and subsequent tidal wave of traffic). The shop is named Weird Little Friends. You can visit the shop and say hi. My plush love visitors. 🙂
At the start of this case study (back in February), the shop had just two items and the names aren't very good. The names aren't findable. The products themselves are great, but standing out on Etsy requires a bit of linguistic wizardry when it comes to writing titles. Here's how to write a great Etsy listing title designed to grab search traffic.
What's in a Listing Name?
Suppose you're selling a plush fish on Etsy. You might be tempted to name it "plush fish" and be done with it.
(This is what I did for years.)
There's a better way to name your Etsy items.
Do these 2 things when you write your listing title:

Use all 140 characters allowed
Pack it full of relevant terms
Think of all the words and phrases that describe your item. Starting with the three most relevant words, work your way from left to right. A rough Etsy title "formula" looks like:
Most Accurate Terms, Alternative Description Terms, Materials, Size, Who Its For, Color, Generic Description
This naming technique will get your item showing up in LOADS MORE searches.
Here's a real world example:
This little guy used to be a "Plush Betta Fish".
Now he's a "Plush betta fish, stuffed fish toy, kawaii fish, koi plush, flannel plush with safety eyes, personalized toy, blue, green, geometric fabric".
Whoa! That's kinda long and convoluted! Yes, yes it is.
But it works.
Not convinced? I resisted, too. But once I did it, I went from 0 views a day to a couple a day plus some favorites and treasury additions. Whuatt?! I didn't change the item or the photos, just the freakin' name!
Then I realized… all the best shops are doing it.
Successful Etsy Shops & Their Search Friendly Listing Titles
Three Bird Nest has over 77,000 sales.
Pick any item at random out of this shop and you'll find a name like "Crystal Beaded Headpiece, Bohemian Chain Headband, Adjustable Headpiece with Crystal Beading and Lobster Clasp in Teal (HB-188)".
That's a long name, isn't it? But look at all those phrases someone might search for: "crystal beaded", "bohemian", "adjustable", "lobster clasp", "teal".
The search friendly Etsy listing title gets customers in the door, the incredible photo keeps them hanging around.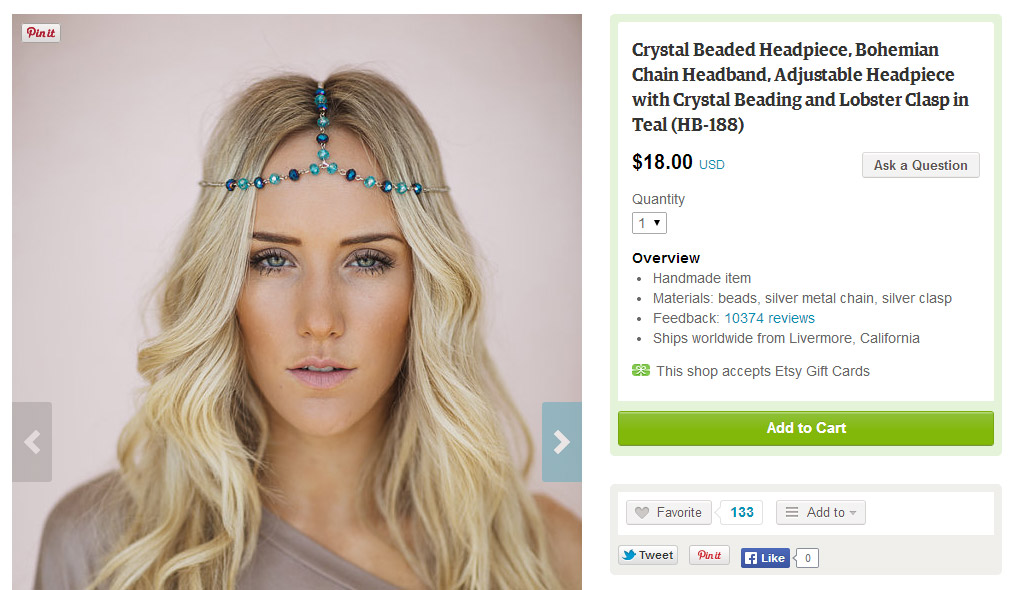 Little Sapling Toys has over 22,000 sales.
How much can you say about a wooden teether? A lot, actually! Talk about materials and use generic terms like "toy" even though it's technically a "teether".
A typical listing has a name like: "Baby Toy California State wooden teether personalized wooden toy". So cute, and so much more likely to show up in search than "teether" alone.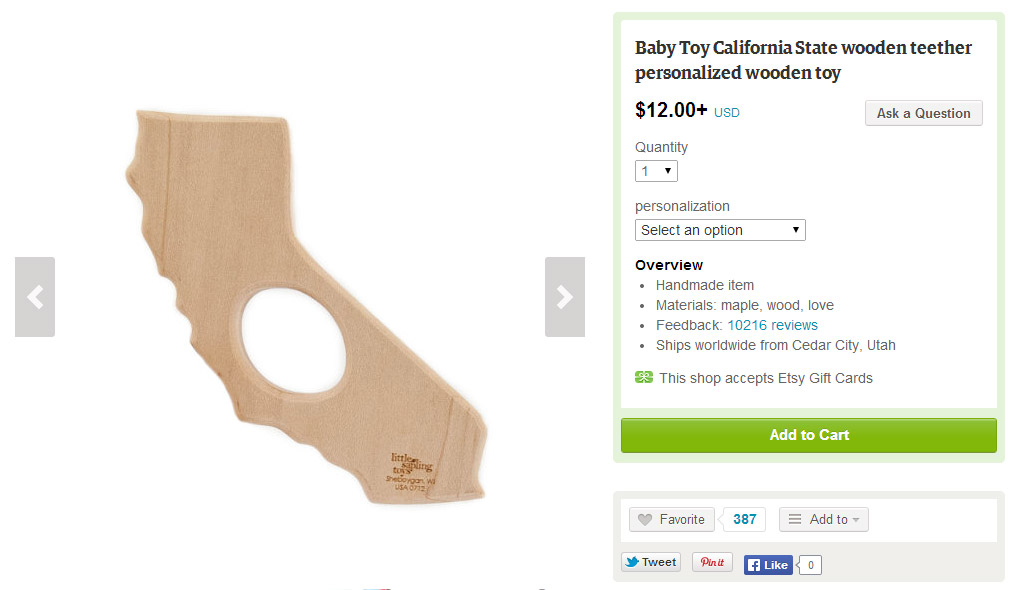 White Magick Alchemy knows it's not just a candle, it's a Dragons Blood . 2×3 Pillar Candle . Pure Golden Seal Resins, High Magick, Protection, Luck, Love, Money, Clearing, Banishing.
The long name gets the item showing up in search, and spellbinding photography (love the props) lures customers in to explore the shop.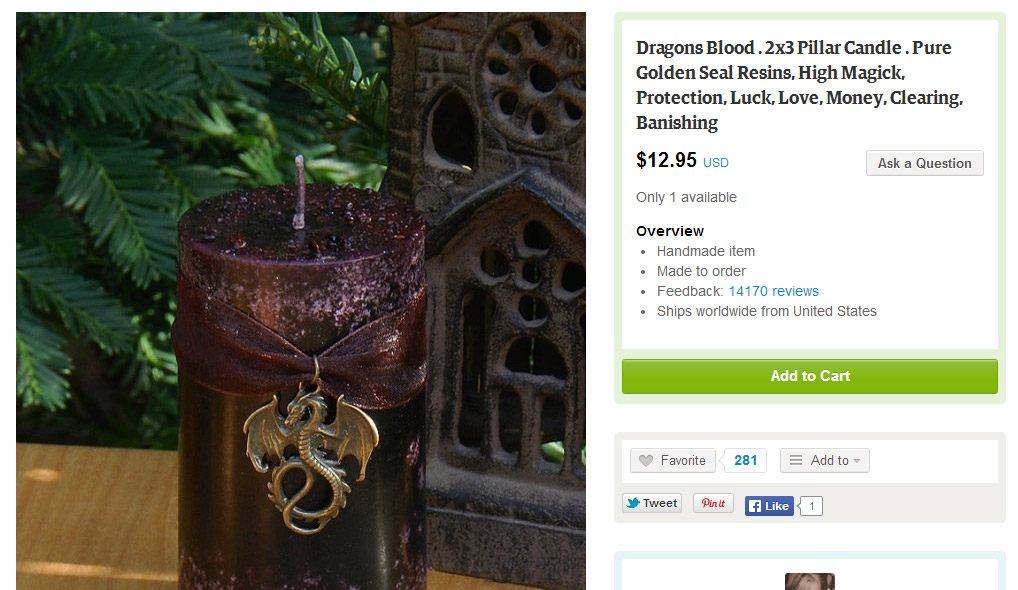 Janine King Designs doesn't call it a camera bag, she calls it a SET Mini Chevron Camera Bag and Dslr Camera Strap, Small Dslr Camera Bag Slr and Camera Neck Strap, chevron brown red blue (MTO).
Searchers looking for "DSLR camera strap", "camera neck strap", "chevron brown" will all have a good chance of finding this cute camera bag.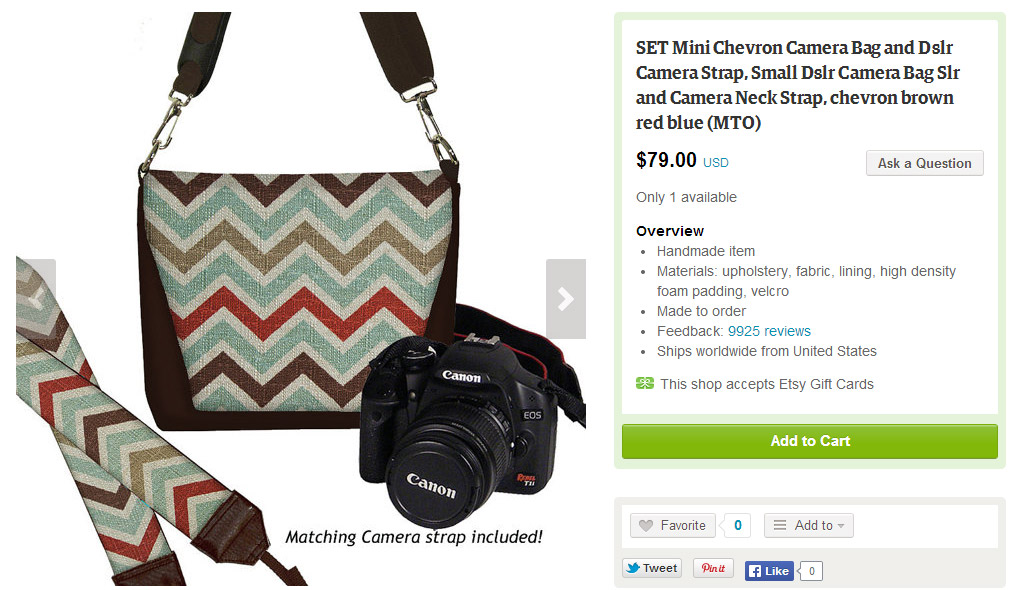 Getting the hang of it? Good! The next section will show you how to write your own search-friendly Etsy listing title.
Writing Search Friendly Etsy Listing Titles
I'll admit it, I cringed when I learned this was the way to name Etsy items. I like minimalist names.
Love it or hate it, though, Etsy's search algorithm gives preference to terms found in the title, so your title needs to be full of the best, most relevant terms you can think of.
Finding Words for your Etsy Listing Title
Make a list of single and multi-word phrases that describe your item
List design characteristics: natural wood, aluminum, organic cotton, goth, futuristic
Target an audience: who is it for? Baby, gift, vegan, husband
Include special features: adjustable, personalized, non allergenic
Still wracking your brain? Here's a few more ways to find words for your Etsy listing title:
Try searching on Etsy for some of your keywords: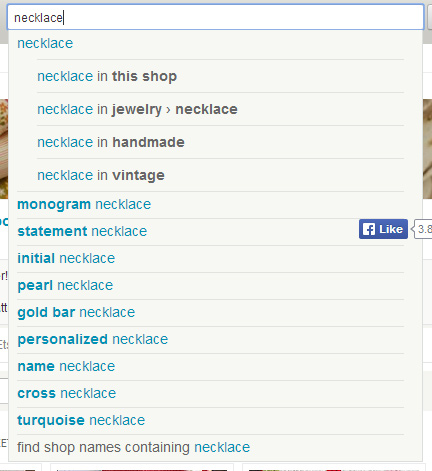 Show it to a friend and ask them to describe it! I thought my "grubs" were simply "plush grubs", but in the hands of a friend they're "fleas" and "bugs" and "it's almost like a fat little whale!".
The first three words are the most important three. Whichever words you use first in your title should be your best, most relevant words.
To use my example from above, "plush fish" becomes so much more: "Plush betta fish, stuffed fish toy, kawaii fish, koi plush, flannel plush with safety eyes, personalized toy, blue, green, geometric fabric"
The best way to get good at this is to keep practicing. It's free to edit your existing listings, so go ahead and edit a few of yours with longer SEO-friendly names.
Case Study Shop: Listing Title Improvements
Here's another example from our case study shop.
The other item was "Big Grub (Custom)". This name had a nice brevity to it, but it wasn't helping the item show up in search. Who searches for "grubs" anyway? Unless you've met met and are familiar with my brand and product, you probably don't think to type "grubs" into Etsy, even if you would actually like my product if you saw it in real life.
The new name is "Grub Plush Toy, Kawaii Bug Plush, Stuffed Flea, Safety Eyes, Customized Plush, Cute Plush, Soft Toy, Snuggle Flannel, Colorful".
How'd it work out? Pretty darn good. Between this change and the change we'll talk about next week (adding more listings), my shop went from 0-1 views a day to what looks like an average of 4 or 5 a day with some days coming in over 10!
Check out this pretty graph:
One more thing to try
Here's a well-kept secret on Etsy: the Etsy ad keywords tool. Access the free tool here: https://www.etsy.com/search-ads/keywords
In the Etsy keyword tool you can compare the cost to list an ad targeting various keywords. This gives you a sense of what words are considered valuable in Etsy's eyes. In my case, I found that "insect plush" doesn't even rank (few people are searching for it, if any) but an ad targeting "plush narwhal" is $5.00 per 1,000 impressions! My grubs are kind of narwhal-ish and might appeal to someone who likes narwhals. Rather than describing my item as an insect, perhaps I should pretend it's a hornless narwhal. 🙂
Browsing the keyword tool is just another way to find terms related to your item.
Etsy Item Title Do's and Don'ts
Quick tips for writing your search friendly Etsy listing titles:
Do put the most relevant words first
Do use as close to 140 characters as you can
Do consult a thesaurus/friend/search engine if you need help describing your item
Do use similar words – "silver" and "grey", "ocean" and "lake", etc
Do speak the language of your customer – if you insist it's not retro, but 9 out of 10 friends think it's retro, it's probably retro
Do use commas to separate search terms
Do mention materials, color, size
Don't put completely irrelevant words into your title (that's called "keyword stuffing" and it is frowned upon by Google and Etsy)
Don't use hearts, periods, squigglies, or other non-letter / non-comma characters
Don't use trademarked words