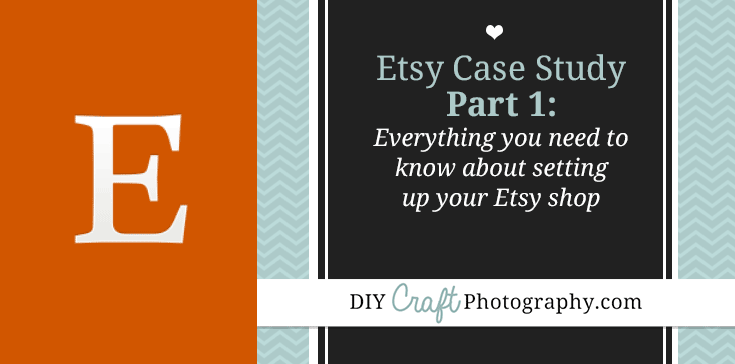 Welcome to part 1 of DIYCraftPhotography's ongoing Etsy shop case study! We're building an Etsy shop and sharing all the details right here!
DIYCraftPhotography's Etsy Case Study
Part 1: Naming & Opening Your Etsy Shop (You are here!)
Part 3: Tagging your Etsy Listings
Part 5: Marketing Your Etsy Shop Outside of Etsy (Case study underway…check back soon)
In this first post of the series we're going to explore the steps of opening a new Etsy shop.
Are you Ready to Open an Etsy Shop?
Most of us old-timers just jumped feet-first into Etsy. We picked a shop name on a whim, threw a poorly lit photo (or five) into the shop, and crossed our fingers. This worked pretty well… in 2006. Don't feel like you missed the boat – it's still a good time to get into Etsy. The Internet isn't "filling up" and there's more people looking for handmade every day. It's just a little harder to stand out.  Are you ready to open an Etsy shop? If you can answer "yes" to most or all of these questions, you're ready to open an Etsy shop.
Things to Know & Do Before Opening Your Etsy Shop
Do you have 10-15 products ready to photograph and list? It's okay if some of the 10-15 listings are variations on the same product, the point is to make your shop look full. If you have 10-15 products that can be described with different words and phrases, you're ready to go.
Can you take good photographs of your products? A smartphone camera or a point and shoot camera is enough to get started with. The simplest photo shoot for your crafts: daytime lighting, simple camera, and a sheet of white poster board or a plain wall for the background. For help taking great photos of your products, check out our Under-$5 DIY White Background Photography Setup and our Table Top Photo Studio Kit Reviews.
Are your products ready to go? If your product takes a while to make (dry times, etc), do you have some on hand, ready to ship?
Do you have the mailing supplies you'll need to ship customer orders? You'll probably need boxes or bubble mailers, clear tape, and something to print an address label. I make plushies, so I like to double-bag everything I ship: one plastic bag tightly around the product itself inside a water-resistant mailing envelope.
Can you reliably recreate a made-to-order item? If your product is made to order, are you able to recreate that first one you used for the photo?
Will you be able to fulfill customers orders in a reasonable amount of time? If someone buys a custom order tomorrow, will you be able to sit down and make it in the next week or so?
Do you have a general idea of what your shop should look like? You'll want to use a consistent logo, typeface, and visual theme throughout your shop. You can always "re-brand" later, but don't start without a sense of shop style. Not sure how to get started branding your shop? Choose two words that describe you and your products:
"cute and pastel"
"gothic and elegant"
"old-world and magical"
"rustic and charming"
Type those words into Google Image Search and see what comes up. If you've never attempted graphic design before, expect to spend a few hours trying things out with text and image placement.
Despite what some professional graphic designers might try tell you, you can DIY this part too. It's completely possible for you to develop an aesthetic for your shop and create a good-looking banner on your own. After all, you know your shop's "look and feel" better than anyone else.
Of course, you shouldn't just take the first thing you come up with – graphic designers spend time developing a vision for a project or website, and you'll probably go through several iterations yourself. If you need inspiration try to mimic the typefaces, colors, and design elements you find when you search for your terms. You'll get ideas by looking at what others have made (nobody works in a vacuum, after all), and as you work, you'll develop a design that suits your store.
In short, don't let a lack of graphic design background hold you back. Some of the most successful Etsy shops are using simple banners that didn't come from a graphic designer's portfolio. (If you aren't happy with what you're coming up with, try Fiverr or Etsy for designers.)
Related: 5 best web apps for free photo editing
Do you know how much it's going to cost to ship your item? Etsy will ask you what it costs to ship your item and can even help you print shipping labels, but you'll need to know how much your item weighs and how much it costs to ship wherever it's going. Shipping outside of the US is pricey – my 4oz plushies typically ship from the US to Europe for around $10. To find out shipping costs, the surest way is to package up one of your products, take it to your local post office, and ask the clerk: "How much to ship this to name of furthest away state?" and "How much to the UK?". They'll weigh your package and tell you.
Do you have several hours to dedicate to the set-up of your shop? It's easy to open a shop, but so much stuff goes into creating a shop it's easy to underestimate the time it'll take to get fully up and running. Creating banners, listings, writing policies and your own profile will take a few hours.
Are you prepared to market your items? Setting up a shop and stocking it with items is half the battle (at best). Most of the work will be in marketing – blogging, tweeting, pinning, getting in touch with other artisans. Your marketing strategy will become critical to your shop's long-term success. Don't panic – this work is ongoing and gradual, you don't need to worry about it upfront. Just know that you'll have to do it for long-term success.
Are you ready to think like a business owner? Pricing, marketing, inventory, answering customer questions – your craft business is just that, a business.
Choosing an Etsy Shop Name
If you've been agonizing over The Perfect Name for your Etsy shop, you were right to do so! Your shop's name is incredibly important!
Your shop name will appear in your shop's URL and all over Etsy:

If you talk about your shop with people you meet in real life, you'll have to say your shop's name out loud (a lot). You'll print it on business cards and mailing labels.You may even hang it over your craft fair booth. No wonder you're having a hard time naming your shop. (
Maybe you've always known what you would call your shop and the name is completely available – that's awesome, go ahead and register it! This section is for the rest of us. 🙂 )
The name you choose for your Etsy shop should be:
Original: Definitely don't copy another shop or existing brand (but you knew that already). You don't want to get hit with a cease and desist two years from now when your shop is humming along and everyone knows you by that name.
Google the name – Is anyone else using it? Do they look well-established? If so, avoid this name.
Check if the domain name (yourshopname.com) is available. I use dynadot.com for checking and registering domains. Unless it's available for $9.99, move on. Brokerage services to secure "premium domains" start around $70 and the domains themselves can cost thousands of dollars.
Is the name available on social networks? Check Twitter, Facebook, Pinterest, etc.
If the name passes all of those tests, it's probably safe to say it's original.
Brief: Your shop name should be 3 distinct words or less (give or take). Long names are harder to remember and can be tougher to design logos for. Don't rely on abbreviation, either – you want people to learn the full name and so they can search for it and recognize it. Also: Twitter limits your name to 15 characters. My shop name is too long for Twitter – booo!
Memorable: What Etsy shop names do you know by heart? Do you think you remember them because they're clever, poignant, made you laugh, or some other reason? Capturing the same for your own name is tricky, but worth trying for.
Spelling Counts: In my above example I chose "pterodactyl teapots", but pterodactyl can be a difficult word to spell unless you know about the whole "pt" thing. Try to avoid misspelling a common word – you'll forever be saying "That's 'creations' with a 'k'" when you tell people your shop name.
On Brand: A name that's "on brand" fits the shop's aesthetic and products. A name that is "off brand" clashes with the products. Figuring out whether a name is on brand or not is a good time to find an outsider's perspective. Ask a friend what they think of when they hear the name you're considering. If your friend says "kids' toys" and you're selling bunny slippers, it might not be a good match. Branding is super important, so here's an example before we move on. Let's say you sell handmade chocolate teapots. Good shop names might include "AfterDarkTeapots", "CocoaBeanTea", or "TheMidnightPour". Names like "WinterFrostJewelry" or "SparklingJadeScarves" wouldn't fit a shop selling chocolate teapots.
Descriptive but not restrictive: A good shop name describes your products and lets you expand your product line (logically) without requiring a wholesale rebranding. Let's say you're still selling handmade chocolate teapots. You've decided to expand your product line. "Teapots" is still a logical word for a shop that now includes chocolate tea sets and chocolate teabags, and all the terms pertaining to "chocolate" still work (even if they're a bit of a stretch) for white chocolate and raspberry chocolate teapots.
But if your shop is named AfterDarkTeapots and you start adding scarves and organic makeup, the name isn't going to fit. And that's okay – because you can (and should) open a completely separate shop for those unrelated items.
Help with naming your Etsy shop
As if that wasn't bad enough, Etsy only allows you to rename your shop once. Yikes! Did you come up with the perfect Etsy name only to find it's already taken (probably by someone who isn't even using it)? Talk about aggravating! Or maybe you thought "ChocolaTea" was perfect for your chocolate teapot shop, but then you saw a bunch of brick and mortar tea shops are already using it. Boo hiss! If all the good Etsy shop names are already taken, here's some things to try: Play with a favorite phrase Puns, jokes, and popular sayings can make for good shop names. Going back to the chocolate teapot examples, "The Midnight Pour" is a play on "The Midnight Hour". It's silly, but it's memorable and original (maybe). Put a bird on it
I know, it sounds funny (and it is), but if you're really stumped on an Etsy shop name try attaching a bird name. How does your shop name sound with "Finch", "Sparrow", or "Robin" added in somewhere?
Also works with trees, flowers, fish…
Combine letters of your own name A decade ago I was frustrated by my name always being taken, so I combined letters from my first and last name to create "Majoh", a moniker I still use and am usually able to find available on new social networks. Try Panabee Panabee is a free name generation tool. Just type in some words and see what it spits out. See your name idea with vowels merged, letters swapped, suffixes added. Look, "PotAChoc" is available! So is "Chocolapot". Those are kinda cute, and I'd never have thought of them on my own.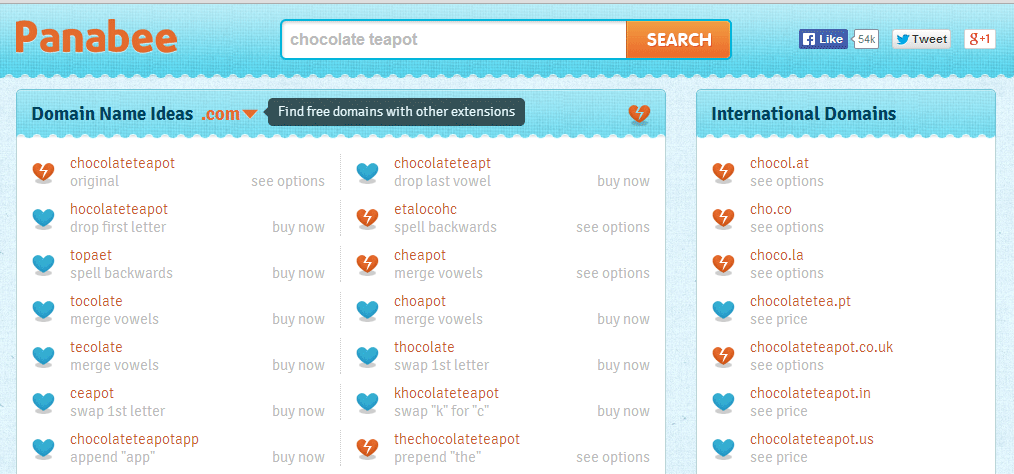 Try something outrageous
Your shop's name doesn't have to describe what you sell – lots of shops don't, in fact.  What if you worked "cuttlefish" into your shop name somehow? (If you do, show me! I love cuttlefish. 🙂 )
Don't get too hung up on "the perfect name"
Here's a funny truth: a lot of top shops break the so-called "rules". Head on over to craftcount.com to see top shops by category – half of 'em have abstract names! Can you guess at what TomBanwell or Owlsay are selling from their name alone? I can't – and it doesn't even matter, because these are super successful shops with over 10,000 sales!
Meditate on it
Take a break from thinking about your shop name and venture out into the world. Go for a walk through a new neighborhood, visit a new shop in town, or listen to some new music. Inspiration comes from all over, and often flows when you least expect it.
Filling out your Etsy "About" Profile
A good Etsy profile tells people who you are. A great Etsy profile enthralls visitors with your story. Oh, and it should also be professional yet personal, well-written yet not stiff, unique without being off-putting, and humorous if you can manage it. Easy, right? 😀 When you're first setting up your shop, a brief blurb about yourself and your products is sufficient. You can always come back later to spruce it up. Your Etsy profile should include:
A greeting. Say hello! Welcome visitors to your shop, and thank them for visiting.
Describe yourself. A sentence or two about who you are. Are you a 20-something? Mother of four? Old guy with a new hobby?
Talk about your process. When do you feel most creative? What inspired you to make what you make?
Describe your materials.
Answer common questions. What kind of paint is that? How long is your turnaround time?
Links to your social media profiles and your website. 
Above all: Keep it brief and inject some personality into it!
Writing your Etsy Shop Policies
Etsy shop policies is a standalone section of your shop where you can detail your shop's policies.  This page tends to be a bit more dry and business-y, especially compared to the "about" profile. Here's a cheat sheet for filling out your Etsy shop policies:
Welcome: A brief description of you and your shop, with a link to your About page
Payment: Whether or not you accept PayPal (you should), if orders need to be paid in full before you ship (generally a good idea)
Shipping: Gift wrapping options, gift note options, details about your packing materials (sturdiness, recycled, etc), estimated ship times
Refunds and Exchanges: Length of time customer has to contact you in regards to complaints or concerns, a promise to resolve the issue ("on a case by case basis" is a good phrase to use here)
Additional Policies & FAQs: Custom orders, wholesale, disclaimers, whether your items are suitable for children
Seller information: Your name and address
Making an Etsy Banner
The process of making an Etsy banner is worthy of its own post – and many Etsy shops exist to sell custom banners if making a banner is entirely outside your skillset. If you've got at least a little bit of image editing savvy, you can copy the image below and make it yours with color fills, text, and photos. Or just make a new image at 760 pixels wide by 100 pixels tall.

Your Etsy banner should include:
Your shop name
Same typeface you use on your individual listing images
Imagery that is representative of your items and/or brand
Choosing your Profile Picture
Your profile picture is like a little ambassador for your shop. It's your likeness in the Etsy community. When you post in the forums, it's the only thing people will see of your shop.
Choose an item that looks good at a small size
Avoid text unless you're working with just a few letters.
Generally, it's best to put a product shot in your profile picture. Logos don't usually grab interest the way a photo of a real product does.
Here's how profile pictures appear in the Etsy forums:
Ready to go live!
You should now have a live Etsy shop, complete with perfect name, a banner, about page, and a policies page. In the next Etsy Case Study update we'll show you how to post your first item and write a great listing title.
Part 2 of the Etsy Case study is live! Read it here!