Move over, Photoshop!  Gone are the days of needing expensive software suites to adjust, crop, and add text to your photos.  In fact, 2013's best in-browser apps for free photo editing online are feature rich and easy to learn.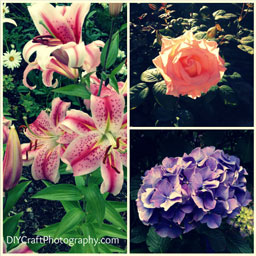 Our Criteria
We spent hours playing with free online photo editors processing images the way we normally do in Photoshop.  In each program, we looked for the same things:
ease of use
stability
robust feature set
text editing capabilities
file types for save
canvas organization (such as layers)
general enjoyment
To earn a spot in our"5 Best" list, an online photo editor had to meet these qualifications:
FREE!  
NO account sign-up required
Work in your computer's browser
Check out in-depth reviews below the comparison chart.
Comparison Chart
Name
Our Rating
Variety of Effects
Undo

Text Editing
Layers
Save File Formats
Pixlr Advanced


9/10
Amazing
Multiple undo
Numerous font choices, including fonts from your computer.

Yes, full
.jpg, layered .pxd

Save to computer or Facebook, Picasa, Flickr
Pixlr Express


8/10
Amazing
Multiple undo
20+ font options, sorted by category
Not quite
.jpg
PicMonkey


7/10
Great
Multiple undo
20+ font options
Yes, partial
.jpg, .png

Save to computer or Dropbox
Photoshop Express


6/10
Okay
Multiple undo
6 font options
No
.jpg
FotoFlexer


6/10
Okay
Multiple undo
20+ font options
Yes, partial
.jpg, .png, .gif

Summary: Photoshop in your browser
Our Rating: 9/10
Pixlr Advanced is a robust in-browser image editing package.  By robust, we mean that Pixlr Advanced offers nearly all the color adjustment, paint tools, layers, filters, and effects that you used to only find in full-blown Photoshop.  For more advanced users, Pixlr Advanced offers dodge, burn, magic wand, clone stamp, red eye tool, and more.  You can even add text using fonts from your own computer.  Don't miss the right-click menu in the layers palette for quickly duplicating and removing layers.
Save your image to your computer as any of the most common file formats, or directly to Facebook, Flickr, or Picasa (login required).  Save as a .pxd to preserve your layers for future editing.
We Love
Photoshop-like interface means our habits from Photoshop transfer right in. For new users hoping to someday "graduate" to Photoshop, skills you learn in Pixlr Advanced will carry over to Photoshop.
Layer palette and saving layered images as .pxd format
Brush tool!  The only online image editor we tried that let us also paint with a brush
Multiple image editing – Pixlr Advanced makes it easy to combine separate files, great for adding your logo or signature
Fullscreen mode and keyboard shortcuts makes this free online photo editor feel like a desktop image editing software package
Color sampling from the image when choosing color for brush or text
Layer styles!  Add a border, drop shadow, emboss, etc to your layer or text just like in Photoshop.
Things That Bug Us
Some keyboard shortcuts don't work (the browser overrides them) and Pixlr's shortcuts .pdf didn't offer a workaround  
Best For
Photoshop users looking for a free alternative, or perhaps while traveling or at your day job
Serious beginners – skills and habits learned in Pixlr Advanced translate to Photoshop
Pixlr Advanced nabbed our #1 spot because it's packed full of features we love from Photoshop.  This was the only editor that made it easy to work with multiple images at once. Aside from one crash when working with layer masks (yes, it has layer masks!) Pixlr Advanced was remarkably stable.
We'd have given it a solid 10/10 if it weren't for Pixlr's shortcuts not taking precedence over browser shortcuts.  For example, CTRL+T should activate Free Transform but it opens a new tab instead.
Summary: Lightweight and fun, add effects on the fly
Our Rating: 8/10
Also by Pixlr, Pixlr Express feels more like a touch screen app than desktop software – in a good way! Its beginner-friendly interface assumes no prior use of image editing software.  Complete beginners will have fun playing with effects in this program, and it's virtually impossible to mess up.  Free transform locks proportions, undos seem unlimited, and the effects are both trendy (vintage filters) and useful (brightness/contrast filters).
Beginner tip: generally, you'll want to work from left to right through Pixlr Express's toolbar.  If you apply your text early on, adjustments you apply later will also affect your text since Pixlr Express has little concept of layers.
The "Express" part tricked us, as we weren't expecting so much depth.  We were able to add a second image to our canvas and paint on effects.  While effects  "stick" once you press Apply, multiple Undo and Redo let you go backwards through the series of changes you made.  Various effects and filters will entertain even seasoned users. Choose from a category, then select an effect's preview to see it in action.  Adjust the intensity of the effect using a slider before clicking Apply.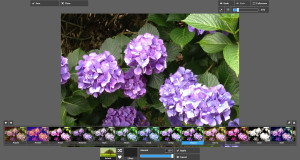 We Love
User-friendly interface.  Icons help beginners find their way, and features are intuitively organized.
Lineup of effects previews  Just pick your favorite out of the lineup, no need to click each one to try it.
The Crop Tool interface includes common ratios (1:1, 4:3, 16:9) and fields for manual dimension entry.  You can even hold SHIFT to constrain the proportions!
Things That Bug Us 
Your changes are committed right away, no layers or editing that text later on
Limited font library, but the fonts Pixlr Express does have are pretty nice
Some heavier effects caused buttons to become unresponsive.  Save early, safe often!
Best For
Beginners – If you know absolutely nothing about photo editing, Pixlr Express is a fantastic way to begin.
Fun seekers – You'll love trying out all the filter effects, text options, borders, and seeing the great results
Pixlr Express shines at the playful, serendipitous aspects of image processing. This is the kind of app that could make a beginner fall in love with photography.
Summary: Gorgeous multi-image layouts made easy
Our Rating: 8/10
At just over a year old, PicMonkey is a relative newcomer to the online photo editing space, but with 20 million monthly users (July 2013) it has certainly caught on.  Don't let its newness fool you – PicMonkey is already a robust image editor.
PicMonkey is the only free online editor we reviewed with a powerful collage-making tool.  Select from numerous layouts (or create your own layout!) and then simply drag your images into each square.  Creating compelling multi-image layouts has never been this easy or fun.
As for run-of-the-mill image editing, PicMonkey has plenty to offer.  All the basics are here, and PicMonkey includes some offerings such as Focal Zoom, Focal Black and White, HDR simulation, and Film Grain, which we didn't see in any other free online photo editor we reviewed.

We Love
Auto Adjust did good things to our test photos
Fine-tune sliders gave us more control over filters than any other software reviewed here
Loads of filters, effects, overlays, and clip art for free users, including some not seen in other photo editors we reviewed
Extensive font library 
Crashes more gracefully than others, prompting you to save your work. PicMonkey also warns user when running out of processing power.
Pop up tutorial tabs help new users get accustomed
Things That Bug Us
Banner ad at the bottom of the work space.  Upgrading to a subscription account hides it, but its presence put PicMonkey's interface a notch lower than Pixlr's
Some common/popular effects are locked up behind Royale membership.  Our first three picks give you access to Dodge, Burn, and many similar effects for free.
Best For
Digital scrapbooking – PicMonkey excels at creating attractive multi-image groupings of photos.
Adding effects – Loads of effects to choose from with fine-tuning sliders for all of them
PicMonkey shines at layouts and offers plenty of tools for image adjustments and improvements.  The pop ups for Royale membership bothered us a bit, but only because we were having so much fun trying out filters that we didn't realize we were clicking our way into pay-users-only territory.
Summary: Photo adjustment drive-thru
Our Rating: 6/10
Photoshop Express is, quite literally, the express route through Photoshop for photo editors.   You start with one image, apply some adjustments, then save it as a jpg.  Being long-time Photoshop users, we wanted (and expected) to adore Photoshop Express, but surprisingly, Photoshop Express is not quite as robust or as Photoshop-like as Pixlr Advanced.  You can only edit one image at a time and you cannot combine different images (so no adding your logo to photos you process in Photoshop Express). There is no layers palette and no way to save your progress as a layered image or apply layer effects like a text outline.
Photoshop Express misses some of the features that made Pixlr Express so entertaining.  No vintage photo filters, and no sliders for fine-tuning applied effects. Font choices are extremely limited and no preview is given, so you have to try each one individually. For an online photo editor in 2013, we expected just a bit more fun.
However, Photoshop Express is not without merit.  Many of the goodies are here: dodge, burn, color adjust, cropping.  And for users turned off by the app-like interface of Pixlr Express, Photoshop Express feels more traditional and task-oriented.
We Love
Dodge and Burn tools give users some finer control
Auto Correct worked better in Photoshop Express than it did in Pixlr Express and gave us more options
User-friendly interface.  Icons help beginners get oriented, features are intuitively organized.
Decorate (stickers, thought balloons, borders, etc) might be fun for some users (but the options are pretty limited)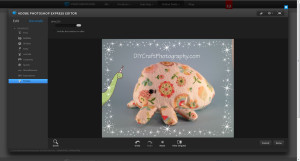 Things That Bug Us
Linear processing interface.  You bring in one image, process it, then save it out and repeat.  The feeling of exploration is a little lost here.
Limited font library.  Photoshop Express offers just a fonts to pick from, and they're fairly dull and common.
No fine-tuning sliders like Pixlr Express.  You get the six or so variations Photoshop Express gives you, and that's it.
One image at a time.  No combining parts of separate image files.
Saving is limited: you can only save directly to your computer as any a .jpg.  No saving layered files or saving directly to Facebook or other applications.
Pressing "Done", presumably to exit an interface, actually finishes your editing with no option to go back.  Attempting to go back loses your changes.  We lost more in-progress work in Photoshop Express than any other online editor we tested.
Best For
Photoshop diehards – Pixlr Advanced is more Photoshop-like by a mile, but if you absolutely must have Photoshop…
People who just want the basics – If you hate "vintage filters" and trendy fonts, worry not – Photoshop Express has neither.
Photoshop Express is in a rough spot: obviously, Adobe doesn't want to undercut its flagship product, but its online version is getting outshined by newcomers. We hope that Adobe will grow Photoshop Express into a viable alternative to regular Photoshop, attracting users who are away from their licensed copy of Photoshop but still want the familiarity and power that they've come to associate with the Adobe Photoshop brand.
Summary: A bit dated but still powerful, little help for beginners
Our Rating: 6/10
FotoFlexer has been in the browser-based image editing business for a long time (at least as early as 2007).  It rolled out the welcome mat to Picnik's and Photobucket's orphaned user bases and, despite its datedness, has carved itself into a decent niche as an animation- and layer-capable web-based image editing tool.  Being able to import photos from virtually every social networking site couldn't have hurt, either.
FotoFlexer offers a whole suite of tools dedicated to adding multiple images to a canvas, adjusting opacity, sorting, grouping, and merging.  However, it lacks a full-blown layer stack, and we felt that FotoFlexer didn't quite explain these concepts (through interface icons or tutorial text).  New users will have to puzzle it out for themselves.
This was the only free online photo editor that prompted us to save our work when attempting to perform an action that might lose our work, such as clicking the FotoFlexer logo.
We Love
Animation  – FotoFlexer is the only animation-capable free online photo editor to place in our Top 5
Fine-tune sliders gave us as much control over filters as other web-based image editors reviewed here
Unique borders, including rounded corners
Layers – While FotoFlexr lacks a stack layer palette like Photoshop, it does allow for grouping, merging, and adding additional images
Fonts – tons and tons to pick from
Right Click menu – An unexpected surprise, the right click menu contains shortcuts to organizational features like push back, rotate, delete image, etc.
Things That Bug Us
Dated interface.  FotoFlexer's interface just isn't as slick and modern as our other picks.  The buttons are ineffective at previewing how an effect will look applied to a photo.
Banner ad at top – The banner ad expands if you accidentally mouse-over it, overlapping FotoFlexer's interface.
Ad-heavy main page – Lacks the sleek interface of our other top picks
FotoFlexer will appeal to experienced users wanting to add glittery text, animation, borders, and effects to their images.  These users will also appreciate the inclusion of grouping and the ability to import multiple images to the same canvas.  FotoFlexer's interface is not as intuitive as some of the other programs, but a user with previous image editor experience will have little to no trouble navigating it.
Final Thoughts
All of our top 5 browser-based photo editors are worth your time.
The differences between editors are in the more advanced features, such as text editing, adding multiple images to the canvas, and save file formats.  No matter which one you choose, you'll love the feature variety, the powerful capabilities that were once only found in desktop image editors, and the price – free!
Stability
All of our top 5 crashed on us at least once, but none crashed more frequently than others and none crashed frequently.  Online photo editing has a bit of a ways to go still in terms of stability.  However, since most tasks we attempted were fairly quick operations, we don't think most users will be inconvenienced by the occasional crash.   Until cloud saves and automatic saves catch up to online image editors, save early, save often is as true here as it was in desktop software.
About these Reviews
These reviews were written by DIYCraftPhotography.com's independent writing staff.  We are not employees or affiliates of any of the image editors we reviewed. We were not paid or perked for writing these reviews.  We're just photographers, crafters, and DIYers like you, sharing what we've learned along the way!