White backgrounds are super popular, and for good reason!  White backgrounds look crisp and fresh, and Etsy especially seems to love 'em!  Just check out Etsy's front page on any random day to see a bunch of white background photos: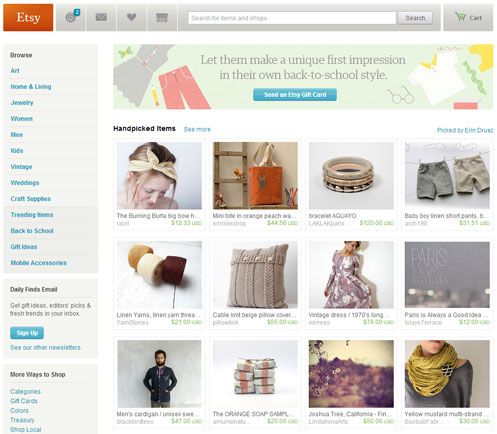 Capturing this look is easy, even for beginners – you don't need a fancy in-home studio or expensive camera, just a sheet of white poster board and some decent mid-day lighting!
Poster Board
White poster board is our favorite material for making white background photos.  It's cheap and easy to find at craft and office supply stores. Choose a large piece even if you plan on cropping the photo later.  You can always trim the poster board later if it's too big. Some poster board has a shiny side and a dull side: experiment and see which side works best.
Lighting
It may feel a bit counter-intuitive, but photographing your crafts outdoors and in the shade can yield spectacular results.  To show you how awesome photographing outdoors is, check out the three photos below. The background is just a simple sheet of white poster board.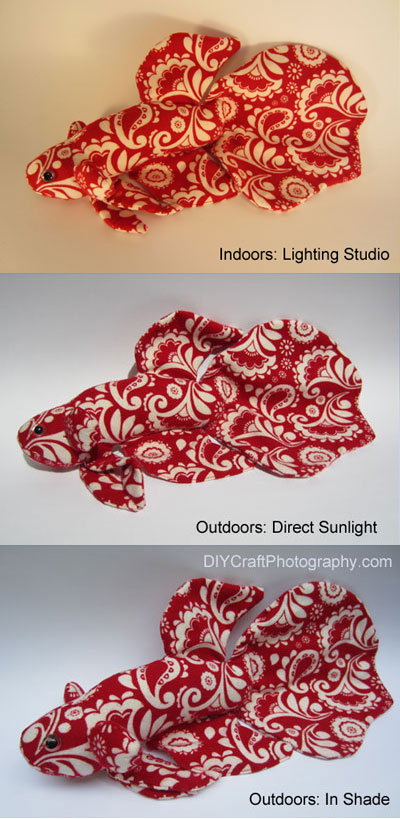 Indoors: Lighting Studio – This first photo would be serviceable in a pinch (and in winter, it's pretty much all we've got to work with!), but both of the outdoor options will require less work.  We also have to work around some awkward shadows cast on the wall behind his top fin.
Outdoors: Direct Sunlight – The direct sunlight option isn't bad, but the poor fish gets a double chin from the shadow and the bright light flattens his body a little much for our liking.
Outdoors: In Shade – Personally, we love the soft shadows and the dimension in the fish's body.
Here's what the outdoor setup looks like: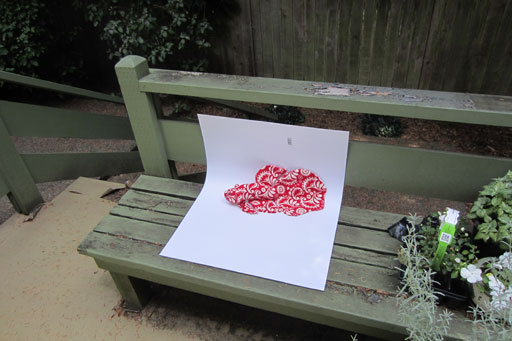 One final word on lighting:  Don't use your camera's flash!
If the flash is triggering as you take your photos, you need more lighting (or you just need to turn flash off, some cameras do get a little flash happy).
Photo Tips
Take lots of photos!  Once you're all set up, don't just take a few photos and call it done.  Aim for 20+ photos of each item you're photographing, and try different angles, arrangements, and even some weird stuff. You can always delete the unneeded photos later.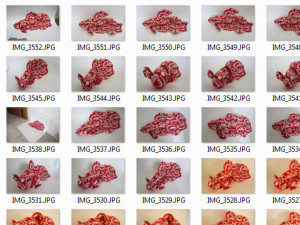 Post-Processing
"Post-processing" is just a fancy word for improving your photos digitally.  Don't worry if you're completely new to photo editing: today's editors are simple (and rather fun) to play with.
For crafters on a budget: Check out Reviews on our 5 Favorite Online Photo Editors – 100% free and easy to use.
It's pretty difficult to take raw images that are usable as-is.  Even the pros touch things up.  With that in mind, your job as a photographer is to minimize how much has to be done.  It's reasonable to expect to punch up brightness and contrast levels, but it's not a good idea to count on post-processing for removing wrinkles from your background or to compensate for overly bad lighting.
In your photo editor, look for these adjustments:
Auto Tone
Brightness/Contrast
Levels
It usually takes just a few minutes of effort to turn a decent before into an eye-catching after: