Do you have a great handmade product you're ready to share with the world?  Awesome!
Putting photos of your handmade crafts online has never been simpler, more affordable, or easier to do it yourself.  This photography equipment checklist is for the ultimate beginner, someone who is just starting to consider the possibilities of selling on Etsy or blogging tasty recipes.
I didn't discover or think about some of these things until years after I started taking photos of my plushies.  I cringe when I think of the early missteps I made when it came to photographing my products trying to get by without some of these must-haves.
Read on and hit the ground running!
Must-Have Photography Equipment Checklist
It's easy to get into debates over what's a must-have and what's a nice-to-have, but we're going to keep it super simple and limit this list to just four essentials.
1. Handmade Crafts or Supplies!
You've got to have something to photograph! 🙂
Jewelry, plushies, food, sewing patterns – when it comes to what to make, sell, or blog about, you are limited only by your own imagination!
2. Digital Camera
You might already have a digital camera, and if it's from the last 4-5 years it's probably good enough for taking pics of your crafts.  If you don't, there's good news: digital cameras are better and less expensive than ever.  Great "point and shoot" cameras can be found for as little as $85 (USD). (Point and shoot cameras are usually pocket-sized with a retractable lens – see image below for an example.)
Nearly all of the photos on DIYCraftPhotography were taken using a 2-year-old Canon PowerShot
ELPH 300 HS (which is actually my second Canon PowerShot in ~6 years).  I highly recommend the Canon PowerShot series for image quality, ease of use, fast power-on time, and memory type (SD cards!).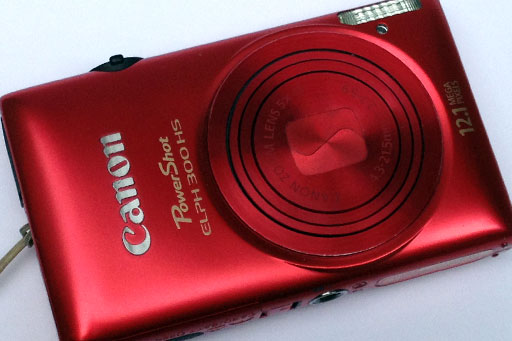 If you're shooting outdoors or in otherwise "ideal" lighting, you may be surprised to find that your smartphone is actually pretty good at taking photos of your crafts!  This plush fish photo was taken with an iPhone 4S and required no more touch-up than if it had been taking using the Canon.
2. Background(s)
What kind of world do your handmade crafts live in?
Are they at home in the outdoors, or are they more the indoorsy type?   Do you prefer a solid white background, a black background, or something a little more interesting?
Whatever background you choose, be consistent across all your shop products for a cohesive, "branded" look in your shop.  Don't forget about props and "action shots" where you show your product in use or on a model!
Want more photo background inspiration?
3. Photo Editing Software
It's virtually impossible to skip the step of editing your photos in some way, even if it's just to resize or crop your photos.  The good news is all the basic photo editing tools you'll need are available for free in your web browser, thanks to in-browser apps like Pixlr and PicMonkey.
Check out our reviews of the Top 5 Favorite Free Online editors.
Nice-to-Have Photography Equipment Checklist
5. Homemade Tinfoil Bounce Card
A bounce card is a white or reflective surface used to "bounce" light back onto a subject.  Bounce lighting fills in shadows and brightens "the dark side" of a subject.
Make your own inexpensive tinfoil bounce card.
6. Tripod
Sure, you can get by without one, but a simple $25 tripod can make a huge difference in the quality of your photos.  Here's the one I use: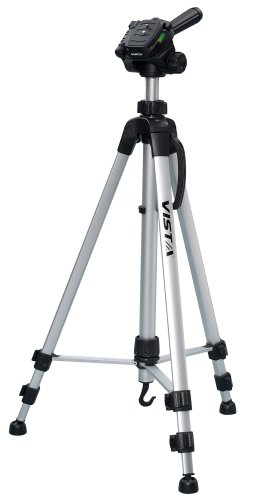 If you're shooting indoors, a tripod will reduce subtle blurring on details.  If you're hoping to take multiple very similar looking shots, a tripod will let you set up a scene and swap your products in and out, one after another.  If your crafts are very small, you may get a lot of use out of a small tabletop tripod.
7. Two (or More) White Foam Core Boards

Grab a couple boards of white foam core from your local craft store and you've got a cheap, go-anywhere photo backdrop for your small crafts.  Blur the seam in Photoshop and you're good to go!
8. An Adventurous Spirit!

Hang in there – no one takes amazing photos the first time around.  Take tons of shots and experiment with different camera angles, lighting setups, and product poses.
Keep trying new things with your photos and before you know it, your shop or craft blog will have its own visual brand.
Got a bit of cash?
These last two items are for DIY'ers willing to spend a bit of cash for a more professional experience.
9. Table Top Photo Studio
If your craft products are small and neat, you may like the all-in-one simplicity of a table top photo studio.  Table top photo studios usually include a white light tent, a few background colors, a couple lamps, and sometimes a small tripod for your camera. The light tent is great at minimizing shadows, reflections, and other interference from the environment you're working in.
Check out our Table Top Photo Studio Reviews & Comparison Chart for help choosing a table top photo studio.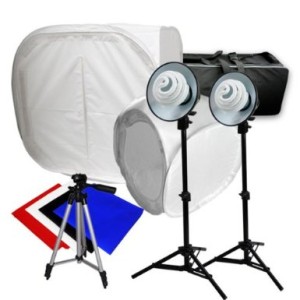 10. Adobe Photoshop 
The free tools we plugged above are great, but for some nothing but Photoshop will do.
Photoshop is the long-time industry standard for photo editing and retouching.  Some folks love Photoshop's enormous array of tools and the opportunity to learn useful skills in this popular image editing package.
Adorable Ps5 Pillow by Craftsquatch
Don't be intimidated by Photoshop's reputation or toolset. Photoshop is easier than ever to get into thanks to the tons and tons of tutorials on the web nowadays.
Some links in this article are Amazon Affiliate links. Read DIYCraftPhotography's full disclosure here.
Quick List!
[ ] Finished product or supplies
[ ] Digital Camera
[ ] Backgrounds
[ ] Free Online Photo Editing Software
[ ] Tinfoil Bounce Card
[ ] Tripod
[ ] 2 Foam Core Boards
[ ] Tabletop Photo Studio
[ ] Photoshop