Welcome to part 4 of DIYCraftPhotography's ongoing Etsy shop case study! We're building an Etsy shop and sharing all the details right here.
Etsy Case Study
The basics are covered: the shop has a name, good titles, and some smart tags, but it hasn't gotten over that "hump" that a lot of Etsy stores struggle with: getting past a handful of sales. Sales come from traffic, of course, and the topic of how to get more Etsy traffic is complicated. This week, we're going to look at the traffic effects of adding more listings to the shop.
More Listings = More Traffic, More Sales, More Everything
Let's say you have one small, red ceramic bowl in your shop.
You'll probably snag a few customers looking for handmade ceramic bowls, but you'll miss out on all the customers looking for large bowls, black bowls, painted bowls, white bowls, fish-shaped bowls, and so on.
More things in your shop = more chances of something from your shop showing up in search.
Do you really need 100 listings?
Helpful members on the Etsy forums often suggest 100 items as a baseline, but I think that's overkill for a lot of shops. If you've got a unique, specific product that doesn't have a lot of competition (in my shop's case, that'd be my plush bettas) you can get found for that one thing just fine. In more saturated markets, like jewelry, it seems like you really can't have too many listings.
You should, however, aim to fill up your front page. That means posting a minimum of 20 items. If there's a magic number to Etsy listings, it's at least 20.
(But don't feel like you need to stop at 20 – aiming for 50, 75, 100, can only help).
Having lots of stuff on offer makes your shop look like a well-maintained, happening place, and customers like that. No one wants to send $20, $50, $100+ into a sketchy-looking place.
What won't work
Don't make the listings identical. You're going to have to vary the tags, titles, descriptions, and photos of every listing you post. It won't do you much good to have two small red ceramic bowls, but having a blue large ceramic bowl and a small red ceramic bowl = twice the chances to capture the bowl buyers.
Don't worry too much about timing, just get 'em up. I added my 20 new listings over the course of three days and I saw no difference in the time of day posted. If there's some magical time to post a new thing, I didn't find it.
Etsy Shop Before
Before its makeover, the case study Etsy shop looked like this. (I think a tumbleweed just bounced through.)
"But I offer 400 fabric choices! If only people would find me…"
My Etsy Shop Mistakes
The shop was sparse for a few reasons, which I now realize were big mistakes in my original shop strategy:
I thought customers would want to customize the product, so I showed it once and told them how to choose a custom fabric
I only sell two plush designs, wouldn't it be weird to list a ton of the "same" thing?
I was cheap and didn't want to spend $4 when I could spend 20 cents!
My hundreds of fabric choices are packed with keywords: flowers, pirates, skulls, rainbows, hearts, you name it, but my items are generic. I wasn't capturing any of those searches! People looking for a "pirate plush" wouldn't land on my customizable grub and think "oh, I want this with pirate fabric".
These were big Etsy mistakes that I didn't realize I was making until I started dissecting successful shops. Successful Etsy shops list a TON of similar-looking things!
Are you selling a customizable product? You should list those variations separately.
If your thing can be made with "rubies" or "diamonds", make two listings. You'll catch searchers looking for "rubies" with the first listing, and searchers looking for "diamonds" with the second.
It's okay to mention that the item can be customized, but listing them separately will bring way more traffic for a much bigger variety of key words.
Adding More Stuff to the Etsy Case Study Shop
Before I could add 20 items to this shop, though, I had to do a few things:
Have 20 variations of a product on hand (fortunately, I already had plenty)
Photograph those 20 variations from 5+ angles each (this took about 3 hours – here's the $5 setup I used)
Write listings for each of the new products (I copy/paste a template listing but I still write a unique opening blurb for each individual product)
Post each product to Etsy 
This took me several hours start to finish – it ate up the majority of a Saturday.
Etsy Shop After Adding More Listings
Here's the shop after the 20 items were added. The product hasn't changed – but there are so many more keywords in this shop now.
Now I'm going to get traffic for words like "pirate plush", "strawberry plush", "graffiti fabric", and "pastel bubbles".
Isn't it pretty? This shop looks much more alive now, and customers can see all the lovely varieties of plush bugs available.
Showing up in Etsy Search: Quantity and Variety
So, did it work? Is there more search traffic now? Let's take a look.
Here's the shop's search data from February 2014.
In February, 21 people came to my shop by searching for these key words. Most of my traffic comes from key words about bettas and fish. That's good – since I do actually sell plush bettas.
But it's not helping people find my grubs. Grubs are kind of weird. Most people don't search for "plush grub". However, people who see grubs in real life usually love them and I've sold them for years to friends and co-workers. Getting them to show up in search is trickier.
Are your products weird or hard to describe?
Try to find other ways to bring customers to your product by using more common phrases.
No one searches for "grub", but they might search for "plush bee".
By listing a big variety of grubs, I can now use words like "yellow" and "snowboard" – these words are relevant to my product, and to searchers. Imagine someone searching for a cute gift for a snowboard-loving girlfriend. A snowboarding-themed grub could be perfect! That's the kind of buyer I need to reach.
For tips on writing listing names, see Part 2 of our Etsy Case Study.
Results: How'd It Do?
Here's my favorite part of the Etsy case study: finding out what works!
Here's a snapshot of the shop's stats 3 weeks after adding the 20 new listings.
Big improvement. Now I have a full 2 pages of search terms, and much more variety in those terms (ie: it's not all plush fish anymore).
I waited another 2 weeks and checked my Etsy stats again:
It should be pretty plain by now: more listings = more ways for shoppers to find you.
Effect on Sales
Alas, I didn't make any sales in this time. More traffic is always welcome, but it's definitely frustrating to be a new seller not selling any products. I'll explore more ways to promote the shop and how to experiment with pricing to make sales in future posts (and I'll share an update when sales do start picking up).
Tags are Important
You might notice that "kawaii plush" is my second most traffic-pulling keyword. I only thought of this tag recently – just two weeks ago – and it's already my #2 keyword. Tagging matters so much. Check out the tagging portion of this Etsy case study for more help with tags.
Increase in Etsy Feed Activity
Another interesting thing that happened: people started adding my items to their favorites! It was slow at first: a couple favorites right after posting new listings, but then it started to snowball. By the end of this 5-week traffic experiment (as this post goes live), I'm now getting one or two new favorites a day.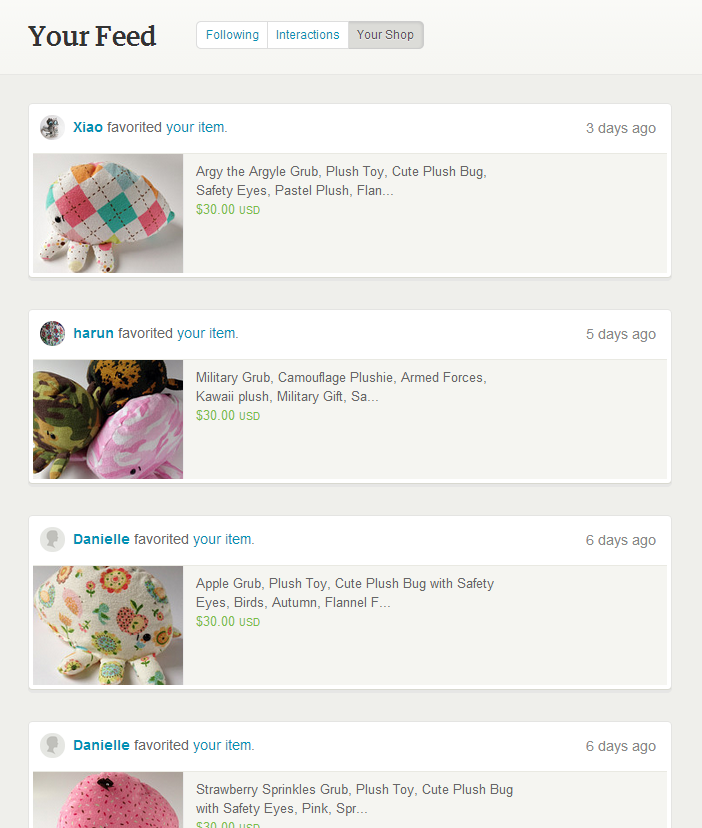 Next Up: Shop Promotion
Obviously, this shop is still in its infancy (but that's why the case study is so exciting! You guys get to learn this stuff along with me :). But it's getting real search traffic, favorites, and interest from real people on Etsy.
In the next part of this case study, I'll explore a few of the most common ways to promote your Etsy shop outside of Etsy and I'll share the results right here. Stay tuned.
PS: I realize that talking about the shop here on DIYCraft may be drawing traffic, too. That's why the tagging and listing experiments were done before these posts went live. If you like my plushies or just want to see how I've set up my shop, please feel free to visit all you like. 🙂