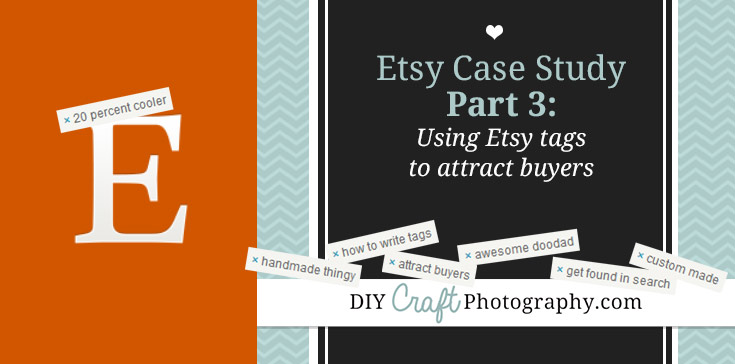 Welcome to Part 3 of our Etsy case study, where we build an Etsy shop and share all the details right here!
DIYCraftPhotography's Etsy Case Study
Last week we showed you how to write effective, search friendly Etsy listing titles. This week, we're going to decode the secrets of Etsy tags.
Knowing how to use Etsy tags is an easy and effective way to bring more visitors and buyers to your Etsy shop, so we're going to dissect tags and write some of our own.
What are Etsy tags?
Tags are words you write and attach to each of your Etsy listings. You get 13 Etsy tags total.
How can Etsy tags help me get more sales?
Tags determine which search results YOUR STUFF appears in.
If you only gave your items a couple generic tags, you probably aren't showing up in a lot of searches. If you're wondering why you aren't getting much traffic from Etsy's on-site search engine, poor tagging might be to blame.
When I was first setting up my shop, I just slapped in a couple one-word tags in my mad scramble to get the listing live so the sales could start rolling in. (Spoiler: the sales didn't roll in.) Once I revamped my tags, I went from getting maybe one or two favorites a week to getting a few a day.
The Magic of "Targeted Traffic"
Which is better?
A) 1,000 visitors but no one's interested in what you're selling
B) 2 visitors and they both want what you're selling
Of course it's B! 🙂
Visitors who want what you are selling are "targeted" shoppers, and well-written Etsy tags bring them to your shop. The next section will teach you how to write Etsy tags that bring in targeted traffic.
How should I write my Etsy tags?
Rule 1: Be Specific
The more specific your tags are, the more likely your visitors are ready to make a purchase. Someone searching for "earrings" could have anything in mind; someone searching for "silver hoop earring" is much closer to making a purchase (as soon as they find the right item).
The more words a searcher is using, the better they understand what they are looking for. 
Consider the differences:
rolling pin vs. embossed rolling pin
hat vs. Firefly Jayne hat
embroidery font vs. cute embroidery font
The person who searched for "Firefly Jayne hat" practically has his/her wallet out!
YOUR tags should be like the latter. Use multiple words.
Vague terms are for shoppers who don't know what they want yet. These people are just browsing. That's fine, but you want the ones who are ready to buy.
Rule 2: Use 2-3 word tags (long tail keywords)
Remember also that you are just one seller in a sea of millions. If you tag your item "earrings", well, I've got sad news for you – so did a million other people! You'll never land on the first page for a search query like "earrings".
No, you're much better off tagging it as a "silver hoop earring". There's a good chance you can make it to page 1 for such a specific phrase – and you can dominate it, showing up for every single person who types that search string. (In SEO, this is often referred to as using long-tail keywords.)
Another example: everyone's selling "car decals", but you're selling "zombie family car decals". If everyone's selling "pink scarves", that's okay, because you've got a "Crocheted Pinkie Pie infinity scarf". You get the idea!
Rule 3: Think Like a Shopper
"Think like a shopper" means:
Call it what your customers would call it
Use common terms
Use synonyms
It might be really tempting to name all of your items cleverly. Naming your bracelets "Rosa", "Emily", "Olivia", etc is cute, but it doesn't work on Etsy. Not in tags or titles, anyway. (As a creator of "named" plushies, this was a painful lesson I learned the hard way.)
Buyers don't know your naming scheme, they just know a general description of what they want. Buyers will type "long pearl necklace", so meet your buyers where they are and use their language.
Rule 4: Use Etsy's search preview
See that Etsy search bar? It's full of clues as to which search queries are actually being used by customers.
It's almost Easter, so let's look for an "Easter dress". I type "Easter dress" into search but Ety's all like, wait up a minute! Did you mean toddler, baby girl, pattern, for girls, 3t, infant, for women…?  This is tag-writing gold!
I now include as many "tested" tags as I can for every item I list. These are terms shoppers are using – you should use them, too.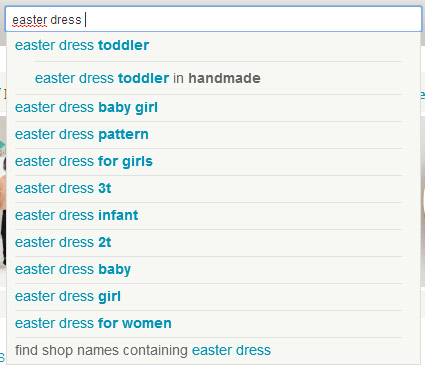 Rule 5: Use synonyms (and find a helper)
After years of thinking of my plushies as "grubs", I was surprised when a friend held one for the first time and exclaimed, "It's a flea!".
My husband thinks they look like whales with extra feet.
My mom thinks they're just weird.
The point of this story: ask someone else to describe your item!
Find someone who doesn't know your business very well, drop the thing into their hands, and ask them to describe it. I guarantee they'll come up with descriptive phrases you've never thought of.
If you're running out of tag ideas, start using synonyms. Gold and brass are similar in color; many shoppers don't know the difference between crotchet and knit; ceramics and pottery are the same thing, whales and narwhals have a lot in common, etc.
Rule 6: Use all the tags
This one's a no-brainer, but since every tag is an opportunity to show up in search you really want to use all of them. Resort to synonyms if you need to.
Rule 7: Vary your tags
Don't use the same tags for everything. Focus your tags on what is unique about each of your listings. If your shop is using just 20 unique tags total, you're far less likely to show up in searches than if you are using 200 unique tags total.
Tags can be confusing to Etsy newcomers because they seem to repeat what's already in the title and description (especially if you wrote an attention-grabbing listing title).
Let's practice tagging!
Okay, with all this in mind, let's invent some hypothetical Etsy listing items and tag 'em.
Example 1: You've made a Doctor Who "Tardis" cross stitch pattern and you're ready to sell it on Etsy. (Can you guess what I've been looking for on Etsy lately? :D)
Good tags for your new pattern would include:
Doctor Who
cross stitch pattern
Tardis
Tardis cross stitch pattern
The Doctor <— Even if your pattern features just the famous blue box, your product is likely to appeal to people searching for other terms related to the show
Whovian <— If your product is part of a fandom, feel free to tag it as such!
embroidery pattern <— Use any and all synonyms that might apply
Whovian embroidery <— Again, it's okay to repeat key terms
Doctor Who pattern
geeky cross stitch
easy cross stitch <— Think of your product from an entirely new angle. How about difficulty level?
Your name <— Use your own real life name or shop name as a tag, whichever is at the core of your branding
Your shop name <— Use your own real life name or shop name as a tag, whichever is at the core of your branding
See how much we are recycling some terms? That's okay. Re-using the most relevant terms helps make your item even more relevant for those tags, and captures variations in searches around that word.
Psst: For some real Doctor Who cross stitch patterns, visit GeekyStitches's Etsy shop – I had so much fun browsing her shop while researching this part of the Etsy case study!
Example 2: Let's sell a finished product this time: a simple ceramic bowl. How much can you really say about a ceramic bowl?
Bowl
Home decor 
Handmade pottery <— What else is it?
Ceramic bowl <— "Pottery" and "Ceramic" are two different words that mean largely the same thing to searchers
Glazed bowl
Pasta bowl <— Think "what would this thing be used for?"
Fruit bowl <— What else might this thing be used for?
Wheel thrown pottery
Red bowl
Food bowl
Large serving bowl
Shallow bowl <— Describe its properties!
Your name <— Using your own name ties your items together and helps people who know you by name find your products
Your shop name <— Reinforce your branding by using your shop name as a tag
Turns out, you can say a lot about a simple bowl! Tags should reference materials, creation processes, purpose of item, uses for item, and physical description. Try to cover your item from multiple angles.
Psst: For some really special handmade bowls, check out AderoWillard's shop on Etsy, who I also discovered while researching this article!
PS: Don't misuse tags. There's no sense tagging your chevron pillowcase "Super Bowl 2014" . You might show up in more searches, but your people searching for "super bowl 2014" won't be interested in your pillowcase and Etsy frowns upon tag abuse.
Tagging the Etsy Case Study listings
Time for me to put this new knowledge to use in the Etsy case study shop. I didn't always do a great job of tagging my own Etsy items.
Here's my "before":
And here's my enlightened "after":
Much better.
Even MORE help with Etsy tags
Another tag tip: Spy on your fellow crafters!
No, not steal – just take a look at how similar items are tagged from shops that are succeeding on Etsy.
I sell plush bugs, so I searched for "Plush Bug" and clicked an item at random. Scroll to the bottom of the listing page to see the tags:

Jackpot!
Did you notice the "Easter gift" and "Easter basket" tags? This shop owner is probably changing some of their tags to match seasonal demands. Smart!
"Felt toy" and "wool toy" are good examples of smart synonym use
"Ladybug theme" is interesting because the item is literally a felt ladybug, but someone interested in ladybugs as a larger theme might not know they want a plush, just a ladybug… of some kind.
Psst: The cute felted ladybug featured in this example is from BossysFeltworks's shop.
More tag tips
Go forth and tag your Etsy items!
You'll have to practice a bit before you can just bang out tags like a boss. Go ahead and re-tag one of your listings with all of this in mind:
Be specific
Write two- and three-word tags
Think like a shopper
Test the usage of search phrases in Etsy's search bar
Use synonyms
Use all the tags
Use different tags for each item you list
Remember, you can edit a listing's tags without re-incurring the listing fee.
Re-tag your items and then check out Part 4 for tips on driving more traffic to your Etsy shop. And if you read this far, thank you! I hope you found this exhaustive guide to tags helpful. If you spot an error or have an even better tagging idea, please leave a comment and say hello. 🙂