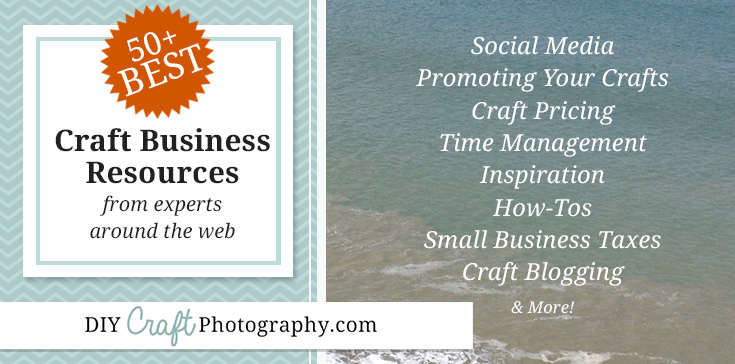 All you wanted was a little place to sell your crafts, but before you know it you've got a blog, a Facebook page, and a full-fledged small business to look after!
Here's the good news: you don't have to figure it all out on your own.
These 50+ resources and guides from the crafting community and small business promotion experts are the resources I turn to again and again for help with running my own craft business. How to manage your time, where and how to market, how much to spend on advertising, how to manage your inventory – it's all here! 
Bookmark this list and refer back often as you build your own successful craft business. If you find it helpful, please share it with your crafty friends on social media!
Happy reading!
Starting your Craft Business
Handmade Marketplaces
Listing your crafts in multiple markets = more chances to get discovered! Just be sure to polish each storefront to a shine, no half-assing allowed.
Marketing your Craft Business
Where to Market your Crafts
Marketing Strategies
Blogging for Crafters
Social Media
Pinterest
Legal Stuff: Sellers Permits, Business Licenses, etc
This stuff varies by state, so try searching on Google for opening an online business in YourState/YourCountry to learn the specifics.
Motivation & Craft Business Management
Feeling discouraged? Here's some great pick-me-ups for you and your craft biz. 🙂
Humor
What great resources did we miss? Tell us about YOUR favorite guides and resources for running a craft business in the comments!
PS: Did you like this post? Check out our Ultimate Product Photography Tips List. It's the #1 most visited page on DIYCraftPhotography.com!
Some links in this article are Amazon Affiliate links. Read DIYCraftPhotography's full disclosure here.
Related Reading
Food photography styling and composition tips