DSLR cameras (that's short for "digital single-lens reflex") are the powerhouse cameras favored by serious photographers, bloggers, and craft businesses. DSLR cameras are larger, heavier, and more expensive than point and shoots. What can a DSLR do that a point and shoot camera can't? 
Read on as we explain the biggest DSLR advantages over point and shoot cameras!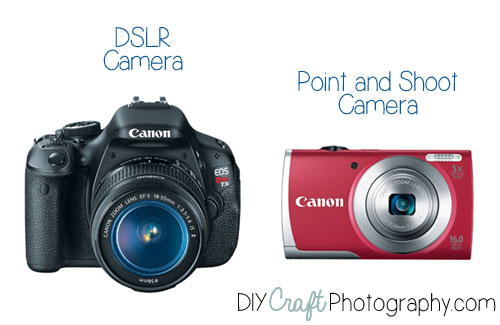 DSLR Advantages over Point and Shoot Cameras
Lenses!
Swapping lenses is like giving your camera new super powers. Lenses = versatility. 
Wait a minute – don't point and shoot cameras come with lenses built in? Yes, but those are "all purpose" lenses – they put everything into focus and that's the end of it. On a DSLR, however, you can chooses lenses that put the background out of focus, magnify tiny details, or photograph objects thousands of feet (or miles) away with clarity.
Blurred backgrounds, hooray! Many product photographers want to achieve this blurred background look. To get it, you'll need a lens designed for a shallow depth of field. Look for a lens with "85mm" or "100mm" in its name and you can create beautiful bokeh effects. (Tip for searchers: "bokeh" is just a fancy photographer word for "blurry background").
Point and shoot cameras really struggle to achieve this professional-looking effect.  This is because a point and shoot camera is designed to put everything in focus. That's the tradeoff – a "foolproof" camera assumes you want in-focus shots! Some point and shoot cameras offer macro mode, but macro mode doesn't work well on objects larger than, say, your hand – not to mention subjects like children and decorated rooms.
With a shallow depth of field lens, your crafts can look sharp as that messy kitchen behind them becomes a pleasing blur! These 85mm lenses by Canon and Nikon are highly rated and good examples of the kind of lens you would need to achieve this flattering effect.
More control
If you've ever been frustrated by indoor lighting, poor lighting, moving subjects – you'll love the options a DSLR offers.
Yes, you'll have to practice a bit to master your DSLR, but the effort is well worth it. The typical DSLR offers aperture controls, shutter priority, full manual exposure, light metering, channel controls, and more. Don't worry if you don't even know what these terms mean yet – the web is packed with helpful guides to virtually every camera on the market.
When you're ready to step up, a DSLR will feel like the training wheels have come off.
Bigger sensor = Better image
Camera manufacturers love to boast about megapixels, but sensor size also matters. DSLR sensors are much larger than those of point and shoot cameras. Larger sensors let more light in, reducing grain and increasing sharpness. Look closely at your point and shoot photos and you'll probably find a blurry haze at the edges of objects – larger sensors get rid of (or reduce) that effect.
Wait, what is the sensor, exactly? In a DSLR camera, a mirror behind the lens directs light to the viewfinder (allowing you to see what the camera sees).  When you press the shutter button, the mirror moves out of the way and light hits the sensor instead, recording the image. Sensors are what replaced the 35mm film frames of yesteryear. Like film, sensors are sensitive to light. Larger sensors are what make DSLRs what they are: better cameras.
A quick terminology lesson for the interested: Most DSLRs have sensors described as "APS" or "1.5x" or "1.6x". Some DSLRs are "full-frame", meaning their sensors are the same size as 35mm film – and at that point you're entering "serious landscape photographer for National Geographic" territory. All you really need to know is that DSLRs let more light in, and more light = better photos.
More reading on sensors:
Resale value
If you're looking first at an "entry level" DSLR before investing in a higher quality DSLR later on, you'll be happy to hear that you'll probably be able to resell the camera body and/or lenses and apply the earnings to your next camera. (But don't get too wrapped up in the upgrade cycle – here's why.)  Point and shoot cameras are so inexpensive and so ubiquitous they're difficult to resell a few years after purchase.
Even more valuable are the lenses. At anywhere from $200-$2000+ each, lenses are a real investment. New lenses can become an addiction, too, since each one unlocks new photography possibilities!  Fortunately, lenses generally stay compatible over the years, so your collection of lenses will stay "current" for a long time.
Quick word of advice: you'll need to pick a camera family and stay in it. Generally speaking, Canon lenses work with Canon cameras, Nikon lenses with Nikon cameras, and so on.
Quick photos (no shutter lag)
Many point and shoot cameras have a noticeable delay after you press the shutter button. If you've ever tried to capture a moving subject, you know the frustration of blurred photos and missed shots.
DSLRs are lightning fast – press and shoot! Most can take multiple pictures a second.
Accessories for even more control
DSLR cameras offer a huge variety of accessories such as remotes, off-camera flash, shoulder stabilizers, flashguns, and diffusers. Properly used, accessories like these can enhance lighting, soften shadows, control glares, and make your human models look better. (Ever been to a wedding with a professional photographer? The photographer probably carried many of these accessories to get better control over the venue's ambient lighting.)
This beautiful shot from Etsy seller PowderBlueBijoux shows the quality of soft, controlled lighting you can achieve with the right camera accessories.  Pale backgrounds, skin tones, and hair colors can be difficult to capture – they're prone to "blowing out" in too-bright light. In this photo, the photographer diffused the lighting and captured all the subtle details of the flowers and the model's delicate skin tones. If you're working with human models, mastering your DSLR accessories is essential.
My favorite accessory is the remote. Without a remote, you're left relying on the self-timer. It can be a real hassle to get everything into position before the self-timer runs out, and a remote lets you just rapid fire shots and pick the best one later.
Grow Your Photography Skills
If you've enjoyed taking photos with your point and shoot and find yourself wanting more, a DSLR is the next logical step. There's more to learn (and buy), but photography is a rewarding life-long hobby. If you think you'll enjoy it, why not jump in with a DSLR?
In Conclusion
This particular list of DSLR advantages over point and shoot cameras was written for crafters and product photographers! There's soooo much more you can do with a DSLR: landscape photography, high speed photography, long-exposure, portraits – they really are the "everything" camera.
Remember, too, that you don't have to own just one camera. If you've already got a point and shoot camera, think of a DSLR as an addition to the family. For photographing your crafts for Etsy, a DSLR will almost certainly help you take more polished-looking photos and your compact point and shoot camera still fills that "go anywhere" role.
Some links in this article are Amazon Affiliate links. Read DIYCraftPhotography's full disclosure here.