Ready to get inspired? Check out these three Etsy shops with great photos!
Looking at the photos of successful Etsy shops is a great way to grow as a photographer and crafter.  Far from "copying" or "stealing", it's more like studying and absorbing the best of the best.  Just be careful not to get lost admiring other shops – no one became a great dancer by just watching others dance!
Here are three crafters doing things right with their shop photos.
IvieRidge's Vintage Typewriter Jewelry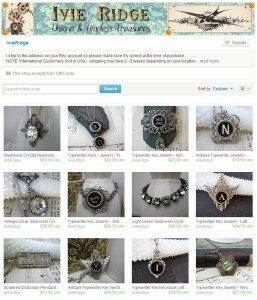 IvieRidge's Etsy shop is packed full of gorgeous craft photo eye-candy – clear, cohesive, and just absolutely stunning.
Cohesive color palette
Unfocus your eyes and stare at the thumbnails: most of this shop's photos use the same pewter grey, blue, silver, and beige color palette.
This consistent color palette unifies all the shop's photo backgrounds, even though they're all arranged differently.  Your eye drifts from one to the next, exploring each photo's unique styling.Some of IvieRidge's pieces are brightly colored punches of orange, rose, or green.  Since most of the shots are grey/white/beige, these colors really stand out!
Depth
Notice how every item in this shop is standing up or hanging from something?  This helps separate the item from the background, and creates visual depth and interest.
Unique Background Styling
Sheet music, grey rocks, and what is that white beaded thing?  😀
Also, major props for mixing it up – when every photo is taken with an identical background, the result is mechanical and flat.  The sheet of music changes and varies between shots.  Some items dangle from white vases, others sit on what appears to be denim, and some are draped over a grey rock or sit on a burgundy book, but the unified color palette brings it all together and makes for a pleasing shop presentation.
One final note on background props: even though the backgrounds show a great use of props, the viewer doesn't have to "read" each photo to find the product.  The jewelry products stand out because they are the most detailed, eye-catching thing in the picture.  The background props don't distract from the jewelry.
Awesome work, IvieRidge – your shop photos are lovely!  And with nearly 4,000 sales on Etsy, we suspect others agree. 🙂
SweetEmmaJean's Felt Patterns and Supplies

SweetEmmaJean's shop sells adorable felt food patterns and gorgeous rainbows of felt packs.  The photos are inviting and so the felt so real-looking you'll want to reach out and touch to see if it's actually fuzzy!
Visit SweetEmmaJean's Etsy shop
Soft Daylight Lighting
SweetEmmaJean's shop definitely gets the lighting right.  The shadows are diffused (not sharp), and the highlights are soft (not overly bright and blown out).
Details
Details are super important in SweetEmmaJean's products.  Small hand-made stitches and the texture of the felt are clear and beautiful.
Posing
Each of SweetEmmaJean's food pattern sets is photographed twice: once as a "put together" cute little scene where the food looks ready to eat, and in the second "in pieces" where each individual component is separated out for visibility.
The first photo is attention-getting: the viewer is attracted by the cute scene and clicks to learn more.  The second photo is informative: the viewer sees the pieces that make up the set and gets a better understanding of all of the pattern's components.  Additional photos show close-up details and the pattern pieces themselves.
Skullery's Tiny Skull Treasures
Skullery sells handmade skull replicas, teeny tiny skull-themed jewelry, and lip balms.  The photos are simple, the styling understated, but the effect is eye-grabbing and powerful.
Scale
Skullery's "on model" photos make it easy to determine the approximate size of the shop's jewelry items. Products that aren't shown on a model are shown with a coin or with a hand.
Portraying an object's scale is very important in product photography.  Buyers will be displeased if an object is significantly smaller or larger than expected, especially if the buyer is unfamiliar with the product's size.  For example, I never really thought of how tiny a domestic cat skull is until I found Skullery's replica!
Backgrounds
Skullery's backgrounds are often a neutral, weathered plane of wood or a bright wash of blue.  The wood is a great contrast with the bone-white skull replicas, and the skulls pop against the blue.  I like that the backgrounds are varied – photographing all of the shop's products against the bright blue might look overly monochrome.
Details
Since so many of Skullery's products are tiny, capturing the details clearly is critical.  Most point and shoot cameras feature a "Macro" mode that take wonderfully detailed photos.  Using a tripod is also a good technique for capturing details.  The tiny dents and fissures in the skull replicas are clearly visible – big applause to Skullery for getting this right.
Props
Skullery makes good use of props in the lip balm photos.  My favorite is the cup of honey and a pile of cloves with the Clove & Honey lip balm.  Don't be afraid to include some of the "ingredients" in your shots, such as buttons or chocolate chips.  Including "ingredients" helps the viewer understand the finished product and distinguishes similar items from one another.
In Conclusion
All of these Etsy shops get a few of the same things right when it comes to photos:
Great (natural!) lighting 
Crisp, clear, detail-rich shots
Varied backgrounds with consistency across multiple shots
One last thing – I don't know any of these shop owners.  I just found them on Etsy and want to applaud their awesome photos. If your shop is here and you'd prefer it to not be here, just let me know via the Contact page and I'll remove it right away!