I'm fascinated by black background photography.  Solid black backgrounds are so bold and beautiful, but they are rather difficult to achieve with amateur equipment.  I bought a number of (what I thought were) black placemats, only to be disappointed as they turned out grey and pale in photos.  PVC, polyester, cotton, felt, black paper – all of them go about 20 shades lighter when photographed.
This isn't to say that off-black backgrounds aren't beautiful in their own right, but if you need a pure black background, cotton and poster board aren't going to cut it.
Enter velvet.
Velvet is lush, rich, and black – and it stays that way in photos.
The easiest place to get a sheet of velvet is your local fabric store.  Unfortunately, my 1-yard swatch of "premiere" velvet wasn't going to come cheap.  My local JoAnn Fabrics wanted $30/yard for velvet cut straight from the bolt.  Fortunately, the remnant bin delivered a discounted almost-a-yard sized piece for $26.42 (plus several more rolls – always check the remnants!!).  Still, this is hardly a steal, but my 40% off mobile coupon took the total price for that almost-yard of velvet to $14. That's much better.
Read more about JoAnn mobile coupons here.
Note: Be sure to get "premiere" velvet, not stretch velvet or any of the other lower priced "velvets". They're not as dense and I can't vouch for their photographic results.  If you need a black background, go for the good velvet, it's worth it and you'll get a lot of use out of it.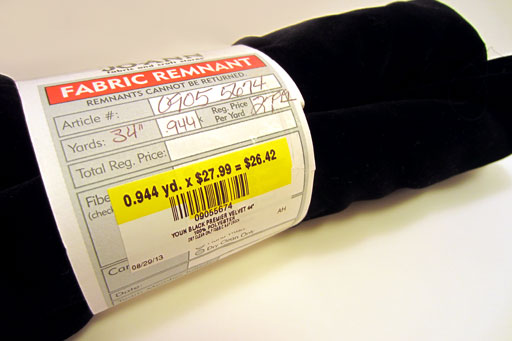 So, how does the black velvet look in photos?