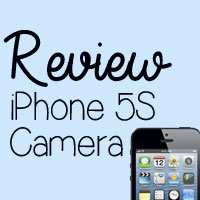 The iPhone 5S is OFFICIAL!!  Apple is back in the smartphone camera game with numerous improvements to automatic image adjustments, stabilization, and an amazing hardware innovation called "dual LED flash".
Last week, we posted our reviews of 2013's best smartphone cameras, which favored the Nokia Lumia 1020 and HTC One over the iPhone 5's camera.  As smartphone cameras become increasingly more capable, the convenience of combining a phone with point and shoot capabilities is very appealing – one less device to carry, potential money savings, and all the benefits of wireless data transfer.
So how does the new iPhone 5s's camera compare to the market's current best smartphone cameras? Read on for our thoughts on the new iPhone 5S camera.
iPhone 5S Camera Hardware
The iPhone 5S camera hardware is remarkable for its first-in-the-world dual LED flash hardware feature.
One flash handles warming (orange balance), the other does cooling (blue balance), and together they contribute to a properly-colored image, no post-processing required.  Are orange-tinted images a thing of the past? We hope so!
This is a first for cameras, not just smartphones.  Normally we'd say don't use flash, but this flash is designed to balance color.  The two LEDs can create over 1000 combinations to get the color balance just right in your photos.
Other hardware additions include:
Five-element Apple-designed lens
Larger f/2.2 aperture
New sensor with a 15% larger active area
Sensor pixels are 1.5 microns in size, larger than last year's iPhone 5's (more light = better picture, less grain and sharper)
iPhone 5S Camera Software
Numerous software innovations have made the iPhone 5S the best at "just point and shoot a great photo" photography.  Apple is constantly improving their automatic built-in camera software, and the 5S offers improvements to:
auto white balance
auto color
image stabilization – ties into the phone's sophisticated built-in motion detection system to counteract blurring
dynamic local tone mapping – the camera reads the environment you're in to improve shadows/highlights
auto focusing
Behind the scenes, the iPhone 5S actually takes multiple photos and analyzes them to figure out which one is sharpest, and only shows you that one.
The iPhone 5S also offers the cool "burst mode" that has been available on Samsung, HTC, and Nokia hardware for the better part of the last year.  The camera takes 20 shots of action and helps you choose the best one.
Also new to the iPhone 5S are built-in photo filters (an Apple first), so you may not need as many (or any) third-party apps to make your photos look brighter (or grungy).  Like its predecessors, the iPhone 5S includes only a few on-device photo filters or editing capabilities   There's no manual aperture or white balance, but the built-in stuff is so good you may not need it.
Best of all, the iPhone 5S is still backed by the world's largest app market, which offers many useful free and paid photo editing apps.
Is it a game changer?
Yes.  If you wanted an iPhone but were considering an Android instead to get a better camera, the improvements to the new iPhone's camera ought to be enough to bring you back.
The iPhone 5S has caught Apple up to its competitors Samsung, HTC, and Nokia.  It's a fantastic camera attached to an amazing phone (did you hear about the fingerprint scanner?!).
The new iPhone is expected to be available on September 20, 2013 (just over a week away).  Keep in mind that the newest iPhone model usually suffers from supply issues that may delay the shipping of your new phone.
Wait, what about the iPhone 5C?
In terms of hardware and camera capabilities, the iPhone 5C is virtually identical to the iPhone 5 of last year. If you're wondering how the iPhone 5 or iPhone 5C stack up against the competition, check out our comparison chart of the iPhone 5 vs. competitors right here.
Getting an iPhone 5C won't give you the cool new dual LED flash color balance feature.  The iPhone 5C's camera is If you really want a next-gen smartphone camera that's going to last you a couple years or more, consider springing for the iPhone 5S.
Read More
http://www.apple.com/iphone-5s/camera/